White House Down: COVID-19 Outbreak in the White House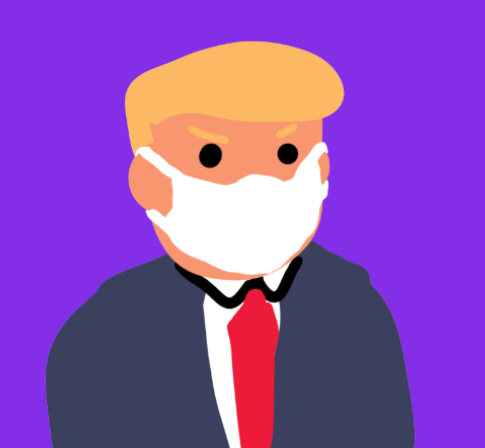 A pandemic knows no rules and will infect anyone mercilessly. This was proven recently when President Donald Trump, first lady Melania Trump, and over 20 other White House officials tested positive for the coronavirus. All were present during what has been coined the "superspreader" event.
On September 26th, The White House hosted an event nominating Amy Coney Barrett for the vacant seat on the Supreme Court, following the passing of RBG. This ceremony is rumored to be the cause of most infections, with the president and first lady testing positive soon after. At the event, masks were scarce despite the hundreds of people present, sharing physical contact, easily making it the cause for the outbreak.
As far as the President informed the public, Trump tweeted on October 1st, "Tonight, @FLOTUS and I tested positive for COVID-19. We will begin our quarantine and recovery process immediately. We will get through this TOGETHER!" Soon after, he went to Walter Reed Hospital, seeking treatment for the coronavirus. After only three days in treatment, President Trump returned to the White House. During this time, Trump briefly kept the people updated on his condition via Twitter, offering his thanks for the positive response, and videos stating that he felt better. "I went into the hospital a week ago, I was very sick and I took this medicine and it was incredible… I could've walked out the following day." In said videos, Trump also stated that although still being COVID-19 positive, he would be returning to the White House.
As always, there is a wide array of differing opinions regarding this COVID-19 outbreak. Some people are angry at Trump's response, claiming he is downplaying the severity of the virus in his tweet saying, "Don't be afraid of Covid. Don't let it dominate your life." Others are simply glad the President seems to be in stable condition and confident enough to return to the White House and remove his mask in public. Others still do not even believe the President had the virus in the first place and are suspicious of how an elderly man under so much stress could beat the virus and be back on his feet so quickly.
Whatever opinions you may harbor on this outbreak, it is easy to say that the pandemic we are experiencing is far from over. The president and other officials had access to amazing care at the Walter Reed medical facility, but most people do not share those privileges. Please, listen to doctors, wear your mask, and practice social distancing. With one shared common interest of returning to "normal" life, we can all do our part in lowering the rates of the outbreak.