Vincent Jackson's Death
On February 15, 2021, the Tampa Bay Buccaneers lost a player. This player was wide receiver, Vincent Jackson. He was found dead at around 11:30 a.m. ET at the Homewood Suites in Brandon, Florida. Jackson had recently turned 38 in January and left behind a wife and four children. The cause of death has not been identified now, but Jackson's family believes that he could have suffered from chronic alcoholism and concussions leading up to his death. We will not know until the autopsy report comes in the following weeks. 
During an interview with ESPN, a spokesperson for the Hillsborough County Medical Examiner's Office told them, "The manner and cause of death are pending further study," said Hillsborough County Medical Examiner's Office spokesperson Michelle Van Dyke. "It could take up to several months for a formal autopsy report, depending on what tests need to be run." This comes out after Hillsborough County Sheriff Chad Chronister said on the radio Q105 that an autopsy report would be made available on the 17th when in reality, it would not. Van Dyke added that the initial case summary is not available yet and would not be released on the 17th. 
On February 24th, close friends and family Jackson came together to say goodbye to him. His wish was to be cremated, and the family held a small private funeral for him. His brain, however, was donated to the CTE (Chronic traumatic encephalopathy) Center at Boston University because his family believes Jackson suffered brain trauma during his long football career. They hope that this research will help prevent and treat other cases of CTE in other athletes. Many fellow teammates of Jackson, the Los Angeles Chargers, and the Tampa Bay Buccaneers sent their condolences to the Jackson family. The Buccaneers said in a tweet, "We are shocked and saddened to hear the terrible news regarding the loss of Vincent Jackson. During his five seasons with our franchise, Vincent was a consummate professional who took a great deal of pride in his performance on and off the football field. Vincent was a dedicated father, husband, businessman, and philanthropist who made a deep impact on our community through his unyielding advocacy for military families, supported by the Jackson in Action 83 Foundation. He was a three-time Pro Bowl selection for his accomplishments on the field, but his greatest achievements as a Buccaneer were the four consecutive nominations he earned as our Walter Payton Man of the Year. Our deepest condolences go out to his wife, Lindsey, and the entire Jackson family." Fans of Vincent Jackson will miss him, but they will never forget all the moments he had in his career.
About the Writer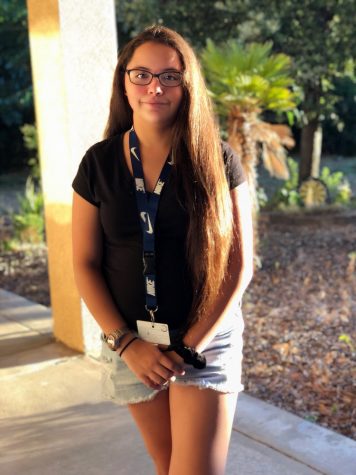 Ashlee Guardado, Staff Writer
Hey everyone, my name is Ashlee Guardado and this is my first year being a part of Journalism. Some things that I enjoy doing are playing soccer, sewing,...