CIF Updates for Simultaneous Club and School Play
On Wednesday, February 10, following clarification from the California Department of Public Health, CIF is set to allow athletes to compete in both club sports and school sports simultaneously, with the exception of football. This decision was made after an inquiry sent by CIF to the California Department of Public Health, in which they clarified that the Health Department made only a recommendation and not a mandate to limit teams to the same groups (club and schools). CIF, in a tweet, states, "We have confirmed that their specific language regarding cohorting and multi-team participation is not a mandate, but a recommendation. Therefore, effective immediately, the CIF is reinstating its waiver of Bylaws 600-605. The only exception is the sport of football." CIF's waiver was in place until January 20th, when guidance from the Health Department forbids 'cohorting' with multiple teams. In addition, athletes are allowed to play multiple sports. 
This change should help small schools which have many more multi-sport athletes than public schools like our own. However, CIF is still limiting the number of hours athletes are allowed to participate in sports at 18. Quartz Hill High School sophomore and athlete Benjamin Hardani states, "I'm pretty happy that CIF is allowing multi-sport athletes like myself to play multiple sports again and allow me to train with my club at the same time. It almost seems like things are slowly returning back to normal." This update is a step in the right direction for athletics to return to the way it was before the pandemic, as athletes can finally receive some good news.
The only sports allowed right now include Cross Country, Golf, Skiing/Snowboarding, Swimming, Tennis, and Track and Field. This is because our county is in the purple, or "Widespread" tier in CIF's countings. Indoor sports will only be allowed once a county reaches the "Minimal" or yellow tier, requiring less than 14 COVID cases per 100,000. If other sports are cleared in the coming weeks or months, CIF's decision will allow athletes more options for competition. This means that athletes can play multiple sports in the same season. For instance, athletes can compete in both soccer and volleyball in the spring season. Also, athletes can play school and club soccer simultaneously, which shows the options now available, despite the circumstances of the pandemic.
The update is also a testament to the in-depth negotiations and efforts of Governor Gavin Newsom in attempts to update guidelines and conditions. CIF Executive Director Ron Nocetti states, "We do feel we are making progress, but the ultimate decision we don't control."
About the Writer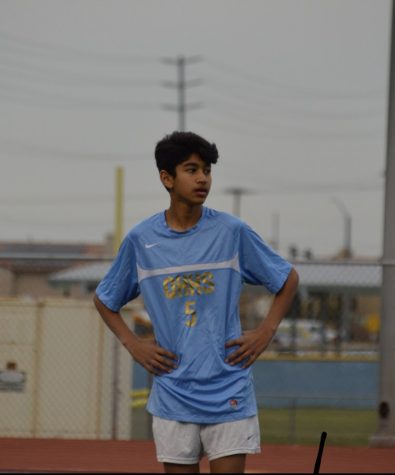 Nilesh Kumar, Staff Writer
Hi there! I am Nilesh Kumar, a sophomore and writer for the sports section of The Ubiquity. Most teachers and staff know me, I'm another member of the...