Forevermore a Genius
You don't know his name but you probably know his work. Jack Antonoff doesn't have the typical superstar look. A goofy-looking Jewish guy from New Jersey, he resembles Andy Samberg more than he does Harry Styles.  Yet, he has produced or collaborated with the music industry's hottest artists while still having amazing songs in his own right. Antonoff is the unsung hero of the music industry. 
Taylor Swift fans know him as her right-hand man whom she partnered with to write Folklore. Their collaboration recently garnered the duo a Grammy for Album of the Year. Watching Folklore: The Long Pond Studio Sessions, a Disney+ special they made, their chemistry is undeniable. Both are passionate musicians whose talents complement each other. Their partnership continued with Swift's subsequent album, Evermore. However, the two have worked together as early as her 1989 album which was released in 2014. He also played an influential role in the production of her albums Reputation and Lover.
Pop and folk aren't the only genres that Antonoff has mastered, however. He developed a partnership with Lana Del Rey to produce and help write her Grammy-nominated soft rock album Norman F***ing Rockwell!. He also worked on her most recent country-inspired work Chemtrails Over the Country Club. There are some notable similarities between Antonoff's collaborations with Del Rey and Swift. He is fond of guitar melodies and including random samples of people laughing or conversations from the recording studio in his music. 
 I could go on and on about his extensive body of work. He's helped produce albums from Troye Sivan, The Chicks, Carly Rae Jepsen, and also co-wrote Melodrama with Lorde, with whom he is rumored to have been in a relationship at the time. Yet, what is often forgotten is his early career as a member of the band Fun. Yes, that band, whose songs "We Are Young" and "Some Nights" were inescapable for any kid riding with their mom during the early 2010s. 
His solo act, known as Bleachers, has not received the same kind of acclaim. The two albums released under this name, Strange Desire (2014) and Gone Now (2017), made modest showings on the music charts. Around this same time, he wrote four songs for the movie Love, Simon. His work as a producer has also yet to be awarded as he has been nominated for Producer of the Year, Non-Classical at the Grammys twice without winning. Otherwise, Antonoff has remained in the shadows throughout his endeavors. While he may not be on the cover of magazines, he has quite literally catapulted the careers of beloved musicians. And even though they might not know it yet, Jack Antonoff has graced the playlist of millions of listeners in the United States and certainly around the world.
About the Writer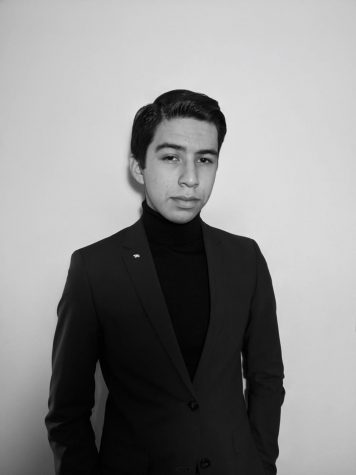 Antonio Caceres, Staff Writer
My name is Antonio Caceres and I'm currently a senior at Quartz Hill High School. I've always loved to write and my interest in journalism is an extension...