The Rise of Mobile Gaming
During the pandemic, boredom seeped its way into millions of our lives. Gaming sales rose in response. While that isn't a surprise, what's really shocking is that the driver of growth in digital gaming is not the thousand-dollar gaming PCs or consoles. Instead, we can thank our smartphones for attracting hordes of newly-fledged "gamers."
Although once scoffed at as "fake gaming," the portability of mobile gaming significantly contributed to its success. More and more people are choosing to play on mobile devices for the ease of playing on the go. Kids, middle-aged adults, and seniors alike have been spending hours playing with their phones. The once common stereotype that everyone who plays games is "nerdy," "lazy," or a twelve-year-old child disappeared after several months of quarantine.
Mobile gaming's ability to please all demographics because of its accessibility is made clear. The most commonly played mobile games belong to the hyper-casual subgenre, which are easy-to-play games perfect for multitasking (think: Candy Crush-esque). Such games comprise 78% of all mobile game downloads and earn 23% of total revenue. 
Moreover, according to Newzoo — the most quoted source for game industry insights –, 94% of global gaming fans play on mobile devices. Impressively, 36% of all mobile app downloads in 2020 were games, equaling around 80 billion downloads worldwide. On the other hand, only one-third play on consoles and less than half on PC. As accomplished developers like Nintendo, EA, and Riot Games port their beloved games onto the small screen, dozens of more fans are brought into the mobile world.
Twitch streamers and YouTube channels have also been important factors to the success of breakout hits, such as the infamous Among Us. At multiple points last year, the game boasted 60 million daily active users. Only two years prior, it was considered a success by the developers for a mere 1,800 players. Other games like Genshin Impact and Cookie Run: Kingdom, released only last year, also shot their way up mainly due to a viral social media presence.
The increase of players also means the rise in profits, with mobile games on track to surpass $120 billion in 2021 after earning over $100 billion in 2020. The prominent revenue makers are free-to-play games — which are free to download but offer paid in-game buffs. In the first half of 2021, 810 games surpassed $1 million in consumer spending monthly. Despite the loosening of lockdown restrictions and return to in-person activities, there has been a remarkable lack of change in spending trends.
However, there is a dark side to mobile gaming (and, of course, gaming as a whole). Making purchases with the tap of a button is one of the origin stories for mobile gambling addictions. In some unlucky cases, an unsuspecting parent might suddenly see an extensive bill of in-app purchases made by their child. Plus, portable gaming means even more chances for distraction and wasted hours of non-productivity. So, carrying a device fit with all sorts of fun possibilities is, unfortunately, both a blessing and a curse.
There's obviously nothing wrong with a bit of casual fun throughout the day; a brief check-in with Pokémon Go won't hurt a soul. Still, there's a vast difference between playing for a few minutes during break and pulling an all-nighter after twelve rounds of PUBG Mobile. As mobile gaming continues to pull in players, I hope everyone remembers the common proverb — moderation is key.
About the Writer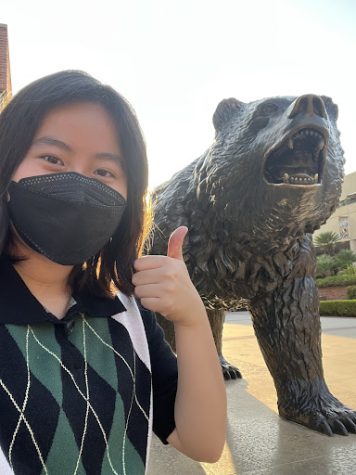 Tiffani Pe, Copy Editor
Hello again, Quartz Hill! My name is Tiffani Pe, and I'll be serving as an assistant Copy Editor for the QHHS Ubiquity. Being a senior IB student with...