Animal Crossing: New Horizons' New Major Update Immediately Caught My Heart
After enduring a drought of content for several months, the hype train for Animal Crossing: New Horizons slowed to a near stop. Nintendo's lack of attention to the game led many to think the game was done for. However, on a fateful Wednesday evening of November 3rd, the last free major Animal Crossing update was published, contrary to its expected release date of November 5th. Fans went wild over the abrupt two-day early release. At last, the community was revived, and in came a flood of social media posts broadcasting dozens of fresh features, new faces, and fabulous items straight from the 2.0 update.
Old players returned by the masses after realizing that the game was filled with countless hours of content to explore. Not only was the long-awaited cafe, The Roost, added, but more than 9,000 items also arrived. The items range from creepy skeletons to antique furniture sets or vehicles like cars and bikes; with the increase of personalization options, players enter the hunt to collect everything for themselves. Even more, the legendary froggy chair — the beloved amphibian seat that fans have begged Nintendo to bring back from the old games — finally made its grand appearance. 
Besides that, a great deal of the new items includes food and crops. Players can now dirty their hands as they till their land to make way for carrots, potatoes, sugarcane, tomatoes, and wheat. The plants can be converted into ingredients like whole-wheat flour and sugar to whip up delicious dishes. Notably, each dish is vegan — a sensible choice, as otherwise, New Horizons' rated "E" status would change really quickly (considering that 99% of the game's characters consist of human-like animals). 
But I have to admit: the wiggling, wobbling gyroids are the hands-down best addition. There are 36 of these colorful, funkily shaped instrumental decorations waiting to be found. With names like "bloopoid," "dootoid," and "boioingoid" (yes, it makes a distinct "boioing" noise!), I've quickly grown attached to these little guys. One of my friends, Morgan Soundy, further praised them as she exclaimed, "Gyroids are adorable! I adore their cuteness and wish I had them all." I couldn't agree more!
Currently, my personal favorite added activity is the group stretches. Using either the Joycon buttons or motion control, players can engage in a bit of calorie-burning exercise while stretching with island residents. The more sessions completed, the more awards, with special prizes including clothing, furniture pieces, tools, and unlockable player expressions (called "Reactions"). 
Other opportunities to hang out with the residents include impromptu house visits. Sometimes, a villager might pop their head through the front door and check out your abode on a whim. Listening to their comments on the home decor, no matter how minor they may be, are always lovely to hear. As trivial as it may seem, the interactivity is what makes the game special.
Moreover, a variety of other small but neat details are sprinkled into the game. For instance, a set of goofy camera filters like the "fisheye lens" have led to the most hilarious photos circulating throughout the Animal Crossing community. Quirky gestures, chic hairstyles, and groovy beats are a treat to the game as well. Notably, one of the grooviest songs, "K.K. Lovers," has been a favorite for its easy reggae vibes. I also highly recommend listening to the other tracks like "Chillwave" and "K.K. Dub" for a good time. 
Plus, let's not forget the Happy Home Designer DLC, either. Like the past spinoff game, Animal Crossing: Happy Home Designer, you can work for some cash as a home designer by styling the perfect house for a villager. You can go absolutely wild with how you customize the interior and exterior. Heck, you can even set a fitting atmosphere by adjusting the home's season, time of day, and soundscape. Once finished, you'll be met with the option of sharing your creation by uploading it to the "Showroom." Who needs The Sims when you have this?
All in all, fans have been waiting hundreds of days for Nintendo to step up their game. Fortunately, they did not disappoint in the single-player aspect, but the game still woefully lacks in the multiplayer department — I mean, where are the multiplayer games? Where are the co-op Mystery Tour islands? There's not much to do with buddies apart from running around and checking out their shops.
But ultimately, I'm still not ashamed to say that I played Animal Crossing: New Horizons for about five hours straight after the update's release. There are hardly any other flaws in the update itself. Although, my good friend, Brittany Garcia, jokingly wishes that Tom Nook (the infamous island realtor) would "stop constantly piling onto our mountains of debt and ruining our dreams of buying a froggy chair." 
Apart from that particular issue, the update earns a solid 9/10 from me. But hey, don't just take my word for it — play through it yourself!
About the Writer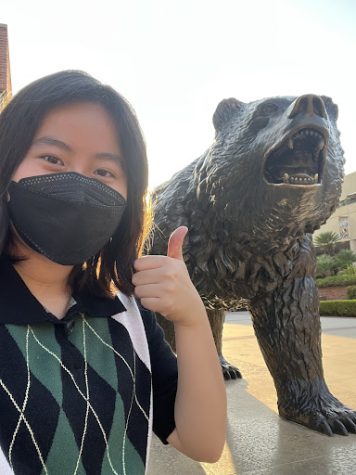 Tiffani Pe, Copy Editor
Hello again, Quartz Hill! My name is Tiffani Pe, and I'll be serving as an assistant Copy Editor for the QHHS Ubiquity. Being a senior IB student with...