The Wholesome Goodness of The Great British Baking Show
Over quarantine, my favorite part of the week was sitting down each Sunday with the TV switched on to The Great British Baking Show. The (obviously) British baking competition show began airing on PBS in the U.S. before switching to Netflix in 2018. Holding 12 seasons and 114 episodes under its belt, it has a positive atmosphere that draws viewers back each year to watch 12 amateur bakers compete in the scenic English countryside. Whoever wins — unlike other shows — isn't met with some grand cash prize or anything like that. Instead, they earn the sweet, sweet title of "Greatest British Baker." I love it. 
Since there's a lack of high stakes, the contestants opt-out of fighting in favor of friendly banter. The bakers focus on actually baking instead of needlessly dragging each other down, and I don't have to worry about who-likes-who and who-doesn't-like-who. Rather, I can simply take in the genuine enjoyment that lights up each baker's face. It's a cherished break from the often dreary reality, and I can't help but crack a smile whenever a bake turns out successful. Who wouldn't?
Another stellar part of the program is the pleasantness of everyone. Currently, the judges are the seemingly no-nonsense Paul Hollywood and Prue Leith, who are actually two sweet, highly-experienced bakers with consistently fair assessments of the bakes. The hosts (and professional comedians), Noel Fielding and Matt Lucas, also never run out of good-humored jokes that add a dash of cheer to episodes. But naturally, I come back for the diverse group of contestants. I never get bored of learning a bit about each of their lives outside of baking — there's always an inclusive mixture of cultures and demographics.
Now, strangely enough, one of the show's many highlights is the elimination scene at the end of each episode. The person going home doesn't walk off alone — they instead are surrounded by warm hugs, comforting words, and a pat on the back to let them understand that they did well. It fills me up with fuzzy feelings to know that, hey, at least they're heading home with the prize of new friendships.
Overall, I wanted to note that British competitions are more grounded than their American counterparts. When you tune into an episode of the U.S. version of Hell's Kitchen or Masterchef, you're bound to be met with a bombardment of silly, comically dramatic sounds. And to boot, there's the rapid zoom-in, cuts, and rewinds (multiple of them) to emphasize whenever a contestant messes up as if the show assumes the audience experienced sudden amnesia. (No, I do not need five takes of the same two seconds to remember what I just saw.) As an occasional enjoyer of a dramatic reality show or two, I could do with less obnoxious traits.
All in all, in the sea of competitive shows pitting contestants against each other to test them against their limits, The Great British Baking Show's lack of cutthroat drama is what makes it "great." There's something special about simply letting individuals of different personalities and backgrounds unite under a shared passion: baking. In this show, the worst that can happen isn't losing — it's giving up. And luckily, the contestants are there for one another with cheers and hugs, with words of support, and with tightly woven bonds, ensuring they keep each other going no matter what mistake may occur. It's not only wholesome. . . it's inspirational.
About the Writer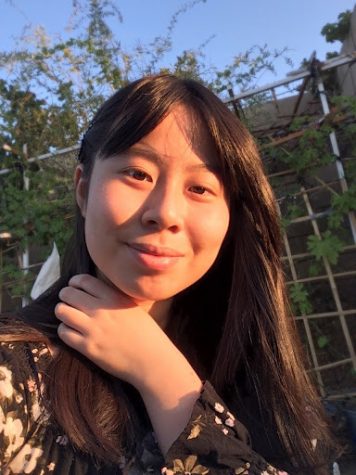 Tiffani Pe, Staff Writer
Hey everyone! My name is Tiffani Pe (pronounced like "pay"), and I'm a junior at our lovely Quartz Hill High School. This will be my first year participating...