Tiger Woods' Return to the Masters
The Masters, one of the four annual major golf championships, is a prestigious tournament with a rich history behind it. The winners take home a signature green jacket and a hefty cash prize. Taking place at the beautiful Augusta National Golf Club in Georgia, this major is one the tour pros definitely don't like to miss the cut for qualifying.
This year, the Masters took place from April 7 to 10. Big names competed, such as Scottie Scheffler, Rory McIlroy, Collin Morikawa, and Dustin Johnson. One name was surprising to see, though—Tiger Woods. 
A little over a year ago, Woods got into a horrific car crash. He suffered significant injuries that required surgery. Even with a long history of medical problems with his body, most notably his back, Woods continued to push through and win match after match. This crash, however, was scary. Woods himself was concerned he'd lose his leg, and while thankfully this didn't happen, doctors reassembled the limb by using a rod, screws, and pins. However, in November of last year, he posted a video on social media practicing, and fans worldwide cheered in excitement—Tiger Woods was back.
He played in a few tournaments, even while recovering. One match was with his 12-year-old son, Charlie, and the pair did a great job. People wondered if Woods would play in the 2022 Masters when the new year came around. Yet, until early April, he was unsure whether he'd be able. 
A few days before the tournament began, Woods officially confirmed he would compete in the Masters. This was exciting news, as this would be his first PGA Tournament in over 17 months.
He started well, even though it was apparent he struggled with his leg as he walked. His scores over Thursday and Friday were good enough to make the cut for the weekend, an incredible feat for someone who hadn't played in a major tournament for over a year. Surprisingly, some big names missed the cut, including Justin Thomas, Brooks Koepka, and Bryson DeChambeau. 
The weekend wasn't kind to Woods, though. He shot his worst score at the Masters, a 78 on both days, and completed 13 strokes over par in the tournament. However, given what he went through, his performance didn't have to be perfect. He qualified for the 22nd successive time and played 72 holes over four days with an injured body. And he isn't stopping at the Masters—just a few days ago, Woods committed to playing at the JP McManus Pro-Am in Ireland in July. It seems as if Woods is still getting his footing back, and we may see him get back to form soon!
About the Writer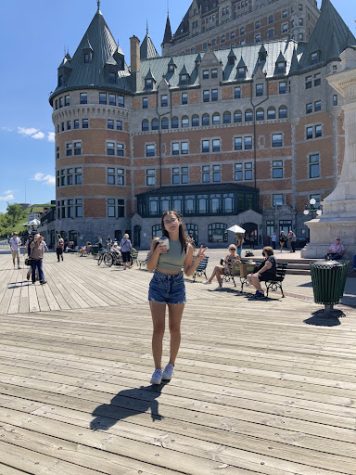 Samantha Redifer, Staff Writer
Hi everyone! My name is Samantha Redifer. This is my second year in Journalism and my senior year of high school. Most of my summer was spent doing summer...