Formula 1's First Grand Prix in Miami
A new Grand Prix circuit is always a source of excitement among F1 fans and drivers. The more tracks to race, the more entertainment for fans and constructor points for the drivers. The new Miami Grand Prix was announced in April of last year for the 2022 season and just took place from May 7th to 8th. 
The track is a street circuit, although no public streets are used. It's within the Hard Rock Stadium's grounds, built on private roads and other property. By now, it's probably been deconstructed and will be reconstructed on F1's next visit to Miami. 
Before the Miami Grand Prix, the only other Grand Prix in the United States was at the Circuit of the Americas in Texas. As F1 is getting more popular in the states—mainly due to the Netflix series Drive to Survive—more races are joining the calendar. In 2023, F1 will race in Las Vegas, a race that's sure to be flashy.
Coming to Miami was a big event (outside of racing) for some drivers. Lando Norris went golfing with Dustin Johnson and Lewis Hamilton with Tom Brady, both McLaren drivers interviewed for James Corden's Late Late Show, and plenty of other drivers attended sports games in Miami, among other activities. 
Plenty of celebrities appeared at the race, like Paris Hilton, Michael Jordan, and Michelle Obama. The race seemed as big as the Monaco Grand Prix—although it wasn't as luxurious. It tried to be, with a painted fake marina, yachts, and a "VIP beach club" to add some glamor, but many thought this was tacky. No matter how hard Miami tried, it would never quite reach the grandeur of Monaco. But that was alright—the race felt just like Miami.
People had high expectations for the circuit itself. It looked fast and exciting, with three DRS zones for some possible entertaining overtaking. However, mainly to the drivers' disappointment and frustration, the track was not top-quality. Starting from practice, many drivers complained about the material of the track, George Russell even calling some parts of it "rubbish."
When the race began, the track quality didn't seem like much of a problem. The first lap was clean, but other than that, there wasn't much action until later laps. On Lap 41, Lando Norris was hit from behind and spun, which brought out the safety car and gave some chances for overtaking. Once again, the top three spots were a battle between Red Bull and Ferrari; Max Verstappen in the Red Bull came out victorious. Ferrari scored 2nd and 3rd place, but it was a close battle.
The Miami Grand Prix is on a ten-year contract with F1, so hopefully, the race only improves over the years.
About the Writer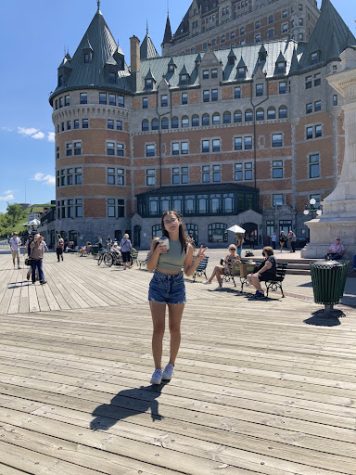 Samantha Redifer, Staff Writer
Hi everyone! My name is Samantha Redifer. This is my second year in Journalism and my senior year of high school. Most of my summer was spent doing summer...