The Hype for Minions: The Rise of Gru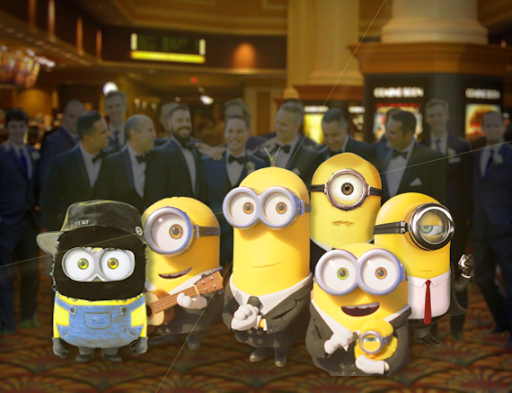 Since the 1960s, no movie has generated such a massive audience of formally-dressed viewers until the release of Minions: The Rise of Gru. The promotion and advertisements for the film have gained the attention of teenage audiences globally. Lyrical Lemonade, a multimedia company known for creating music videos for huge artists popular among the youth (Kanye West, Lil Tecca, Trippie Redd, Lil Skies, and more), partnered with the well-admired, rising artist Yeat. Yeat and Lyrical Lemonade produced a song specifically created for Minions, called "Rich Minion," used in a trailer for the movie. The popularity of Yeat's fanbase and reputation on the social media platform, Tiktok, would lead to mostly positive feedback, causing the song to blow up in popularity. Users would then use the music for videos that joke about watching the children-targeted movie as formally dressed, mature men.
The quick popularity of this trend would unsurprisingly result in teenagers and other age groups wearing suits when arriving at the theater with friends, selling out theaters rapidly and crowding them globally. This often led to chaos in some locations, causing the film to be less enjoyable for those who intended to watch it without the purpose of participating in the trend, causing the ban of formally-dressed groups of audiences from entering theaters. Nonetheless, the idea of watching the Minions movie with family or friends remains and can lead to one of the most entertaining summer experiences.
The movie overall is enjoyable. However, it should be kept in mind that the audience targeted is mainly children. Therefore, parts of the movie and the storyline can be hard to follow as it strays from the actual story of Gru to experiences that the Minions have on their way to saving their "miniboss." Some have mixed opinions about these minion-packed side stories incorporated throughout the movie because they often distract the audience from the main plot. However, I found many of the stories to be charming, as they highlight the inner personalities of some of the minions and show how much they care for Gru.
Whether one wants to solely participate in the hype for the movie jokingly or watch it for the story, the film is packed with nonstop action and comedy. The joke of watching a children's movie with a large group of high-school friends in tuxedos is hilarious, yet not one that will likely withstand time, making Minions: The Rise of Gru a must-watch during the summer.
About the Contributor
Brian Kim, Marketing Editor
My name is Brian Kim, and I am a senior at Quartz Hill High School. With college applications approaching, I have spent some time working on my UC application....