BETWEEN 1&2 EP Review
After debuting in 2015 under JYP Entertainment, Twice has become the best-selling K-pop girl group. Known for their cute, cheerful concepts and a "color pop" music style combining rock, R&B, and hip hop, Twice has a well-rounded and enjoyable discography. 
On August 26, following their fourth Japanese album Celebrate, Twice released their eleventh Korean extended play (EP), Between 1&2. While Between 1&2 didn't receive as much praise as Twice's tenth EP, Taste of Love, I think it's a catchy and fun album with new and exciting songs.
The album's first song is its title track, called "Talk that Talk." The members describe this song as an "addictive" retro pop song, and I couldn't agree more. With its catchy and upbeat melody, "Talk that Talk" makes you want to get up and dance your heart out. It's my favorite song on the album, and if I were to rate it, I'd give it 10/10.
The first B-side of Between 1&2 is called "Queen of Hearts." This track is the only English song on the album, and while I understand its meaning, it was a little too High School Musical for me. It tells a story and is very empowering but was over the top with the theme of "being queens." Plus, the transitions between the choruses were choppy and didn't flow well. Overall, however, it wasn't a horrible song, and I would rate it 7/10.
The second (and my favorite!) B-side is called "Basics." This song is written by one of the members, Chaeyoung (who's also my favorite!), and just like "Talk that Talk," it's very upbeat and catchy. It's more of a combination of R&B and pop, with a nice flow that makes it an easy listen. My rule is if a song can make you get up and start dancing, it's a great song. This song follows that rule, so I rate it 9/10.
The third B-Side is written by the group's leader, Jihyo, and is called "Trouble." Similar to the other songs, it carries that confident vibe, but unfortunately, it's my least favorite song on the EP. I'm not a massive fan of the rap parts or the chorus; it's still an exciting song worth listening to. My rating for it is 5/10.
The name of the fourth B-side of the EP is "Brave." Even though this song is more mellow and "low-key" than the other songs, it shows a joyful chorus. It's one of those songs that doesn't make you get out of your seat and start dancing, but instead, silently nod and shake your head to the beat while you attempt to push past homework. I give this song 9/10.
The fifth B-side, written by member Dahyun, is called "Gone." This song is more R&B and less "peppy" than the other songs. Even though I'm not a fan of rap in some parts, I like the R&B and rate the song 8/10.
"When We Were Kids" is the sixth and last B-side of Between 1&2. Dahyun also writes this short ballad. Going off the title, it's a song that allows you to reminisce, making it a good "wrap-up" to the album. However, I prefer R&B and pop songs over slower ones, so I'd rate it 6/10.
Even though I like the title track of Between 1&2 better than the title track of Taste of Love, I don't think Between 1&2 lived up to Taste of Love. However, that's not to say it's a bad EP — I enjoyed listening to it and added all the songs to my playlist.
About the Writer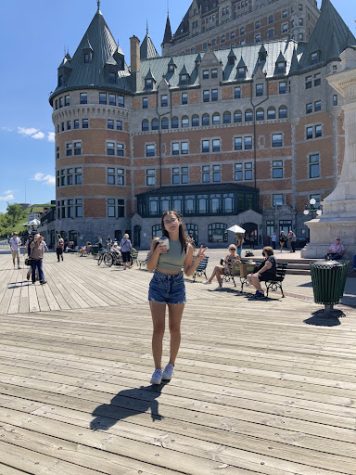 Samantha Redifer, Staff Writer
Hi everyone! My name is Samantha Redifer. This is my second year in Journalism and my senior year of high school. Most of my summer was spent doing summer...