Deji's Boxing Career Comeback
Deji Olatunji was born in London, the UK, on December 9, 1996. He is known for being an English YouTuber and brother to popular YouTuber KSI. Olatunji started his YouTube career on August 27, 2011, making various gaming videos, prank videos, and challenges. Currently, he has over a million subscribers on YouTube.
There are many occasions where YouTubers wanted to fight each other, but what are the origins of this trend? Some speculate it began when popular English YouTuber KSI fought famous English musician Joe Weller in 2018. Regardless, the rising popularity of YouTuber boxing led Olatunji to join in on the trend. 
Olatunji started his boxing career with a fight with a famous American YouTuber, Jake Paul. Olatunji was scheduled to fight Jake Paul in Manchester Arena in 2018. KSI's former coach was training Olatunji until his coach dropped Olatunji because "he didn't believe Deji could win." After throwing in the towel, Olatunji lost his fight with Jake Paul in five rounds. Olatunji claimed "it wasn't the end for him" and that he was "coming back from this." 
Olatunji's second fight was with the famous Tiktoker Vinnie Hacker on July 12, 2021. Unfortunately for Olatunji, Vinnie Hacker won with a total knockout in the third round. Olatunji's fans claimed his loss was due to a COVID-related incident that slowed his training, causing him to be less consistent before the fight. Ultimately, Olatunji had publicly stated, "I'm sorry, I am a failure." KSI offered support by saying, "No, you're not Olatunji. You got in that ring. That's more than what many can ever do." Leaving Olatunji with two losses and no wins to his name.
Moving on to his third fight, Olatunji faced popular YouTuber Alex Wassabi on March 5, 2022, in London. Before this, Olatunji had announced his leave from boxing only to change his mind and publicly state, "I know I said I was going to give up, but I just love the sport too much, and I don't give up. I can't do it." The match ended after five rounds, and Alex Wassabi took the win. Following the game, his brother, KSI, stated, "Deji, I'm disappointed. That's honestly how I feel, man. I'm sorry if that's not what you wanted to hear, but it's the truth."
Olatunji's fourth and most recent fight was against popular YouTuber, Fousey. Olatunji's training videos flooded the internet giving his viewers hope in Olatunji's favor. Both boxers were in great shape to fight in London on August 27, 2022. Olatunji fought three rounds, giving Fousey a bruised eye and a bloody nose. Ultimately, Olatunji won the fight, changing his boxing career to one and three. KSI praised him for his win by saying, "I'm so proud of you, bro." Olatunji—still not done with his boxing career—called out famous Tiktoker Bryce Hall in the ring, leaving his viewers excited to see his next fight and a possible comeback in his boxing career with the support of his brother and fans.
About the Writer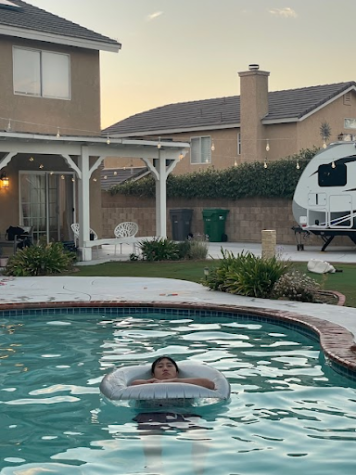 Ian Kim, Staff Writer
Hello! My name is Ian Kim. I am a junior at Quartz Hill High School and this is my first year in Journalism. I like games, skating, skiing, swimming, and...