Kanye's Recent Twitter Controversy
Kanye West is a songwriter, rapper, singer, record producer, and fashion designer. His first big album, "The College Dropout," was released in 2004 and was second on the US billboard. His most famous project, "Graduation," featured 14 songs and sold roughly six million copies. To many people, he is the best artist in the world. However, his most recent Twitter posts make his fans question whether they should keep supporting him.  
As many of his fans know, Kanye struggles with bipolar disorder. Some of the things he says and does don't make sense. In a recent tweet, he made anti-Semitic claims that violated Twitter policy. In a deleted tweet, he said, "You guys have toyed with me and tried to black ball anyone whoever opposes your agenda." 
Ritchie Torres, a U.S. representative for New York, replied to Kanye's post by saying,  "Kanye West: if you see yourself at war with Jewish People, then you are, by definition, Antisemitic. Shame on you and your enablers like Tucker Carlson." 
Jamie Lee Curtis, an American Actress, also had some words to say to Kanye. She tweeted, "The holiest day in Judaism was last week. Words matter. A threat to Jewish people ended once in genocide. Your words hurt and incite violence. You are a father. Please stop." In an interview, she said she woke up in tears after hearing what West had posted. Later in an interview, she said, "It's just abhorrent. It's abhorrent behavior. I hope he gets help."
This isn't the first time he has done something that has sparked the attention of millions of people. In 2009, Taylor Swift won an award for Best Female Video. As she was giving her speech, Kanye stepped onto the stage and took the microphone. He congratulated Taylor but said that she didn't deserve to win and that Beyonce should have won. He said, "Beyonce had one of the greatest videos of all time." 
Ye's actions make his fans question their loyalty to such an artist. It makes them ask themselves if they support him. In the end, only Kanye can stop himself from harming more people. If he doesn't realize his wrongs soon, he might end up losing all his fans and his friends and family.
About the Writer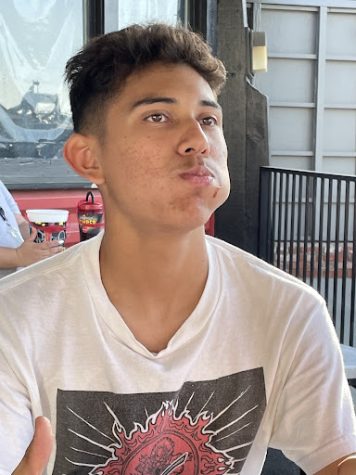 Isaac Orellana, Staff Writer
Hi! My name is Isaac Orellana, I'm a junior, and this is my first year in Journalism. I don't know much about this class, but I do enjoy trying new...