Spencer Reid's Absence
On September 22, 2005, CBS aired the first episode of "Criminal Minds," a show that follows the lives of FBI agents while they profile for the Behavioral Analysis Unit (BAU). When CBS first released the show, it became a fan-favorite that garnered top ratings but ended after 15 seasons. The show's finale aired on February 19, 2020, which was devastating news to fans. 
Things began to look up for fans when Paramount announced a "Criminal Minds" revival in 2021. Many series fans were thrilled that the show would be returning for a comeback, excited for the return of their favorite characters. However, one announcement stunned the internet: Dr. Spencer Reid would not be in the revival. 
Dr. Spencer Reid, played by Matthew Gray Gubler, was a character from "Criminal Minds" who became a clear favorite of fans. Reid was the show's genius; he had an IQ of 187, an eidetic memory, and could read 20,000 words each minute. Throughout the show, he was often loved for his social awkwardness and nerdy remarks. Reid also had some of the best character development throughout the show due to his constant bad luck and sad backstory.
Fans were shocked when news came out that Reid wouldn't be in the show. Reid had been in all the previous seasons and was like the glue holding the group together. Reid's absence became a popular topic in the months preceding the revival's release. Fans had theories about why Reid may be missing from the show, or Gray Gubler may not have wanted to reprise his role. 
Reid fans quickly agreed that he should have been in the reboot; however, it was probably not possible due to his schedule. This was confirmed when the showrunner for the reboot, Erica Messer, released a statement about Gray Gubler and his beloved character. Messer stated, "But if and when they return, it's up to them. It's dependent on their schedules. I can't promise anything right now. But it's the hope." 
This confirmed that Gray Gubler's schedule was too busy at that moment, and many fans respected that. It was apparent that Gray Gubler was working on other projects and couldn't commit to the show. However, Messer also shared, "But Dr. Reid's desk still has all of his books on it and all his belongings. Almost that same time capsule…." This information provided hope; even though Gray Gubler was now busy, Reid could come back at some point.
It has now been confirmed that the revival will air its first two episodes on November 24, 2022, Thanksgiving day. Due to the reboot not being released yet, something has yet to be confirmed about Dr. Spencer Reid's future. While fans are hoping for the best for him to return soon, almost everyone agrees that Gray Gubler should be allowed to take a break from the show.
About the Writer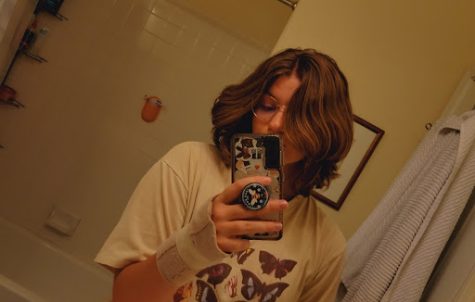 Cameryn Millberg, Staff Writer
Hello! My name is Cameryn Millberg, and I am new to the Ubiquity staff. I will be writing about anything interesting in the Arts and Entertainment department....