Biden's Surprise Visit to Ukraine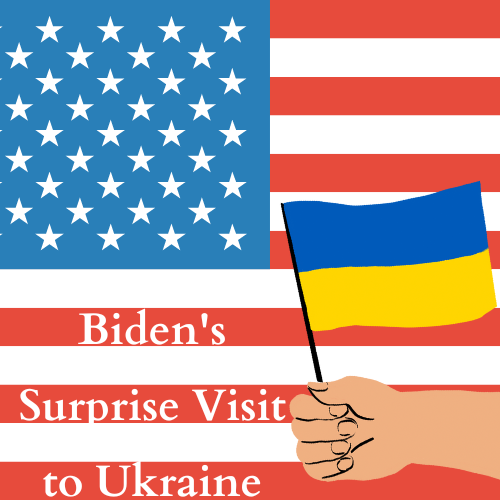 When President Biden appeared in Kyiv, Ukraine, on Monday, February 30th with no announcement to American citizens, it undoubtedly shocked the country.
The President began his secret mission by leaving the White House undercover at 3:30 A.M. on Sunday, but not before alerting Moscow of his visit to Ukraine to avoid any miscalculations that could lead to conflict. He flew into Poland on an Air Force C-32 and took a train with a team of advisors and Secret Service agents into Ukrainian territory. While this happened, Biden's office told the American public that the President would not fly into Europe until Monday evening. Sneaking Biden into Ukraine was a well-orchestrated process by his administration.
The train trip lasted all night. Finally, it pulled into the Kyiv-Pasazhyrsky station. From here, Biden spent five hours in Ukraine's capital, Kyiv. He met with President Volodymyr Zelenskyy, where they discussed military assistance and laid a wreath at the Wall of Remembrance at St. Michael's Golden-Domed Monastery. Prominent pictures were released to the American public of the two presidents walking down the beautiful city of Kyiv together, showing how much Ukraine has prevailed in this war. President Biden recognized in his visit that "Kyiv stands proud, it stands tall and, most importantly, stands free" (U.S. Department of Defense).
Altogether, President Biden was in Ukrainian territory for around 23 hours. No modern American president has visited a country at war that American military forces haven't occupied.
The president's trip was meant to show defiance to Russia– that Ukraine is still standing strong and that the NATO alliance is only getting stronger and working harder to protect democracy. 
When the president was back in Poland after his trip to Ukraine, he made a speech in front of the Warsaw Royal Castle. President Vladimir Putin had spoken in Moscow just hours before the president's speech. As President Biden spoke, it seemed almost like a direct response to Putin's speech, even though the speech writers did not intend it that way. 
Even though the president sounded triumphant in his speech, and though Kyiv still stands, there still haven't been many triumphs in freeing Ukraine. Russia has already taken 20% of Ukraine's territory, and even with sanctions placed on Russia by NATO countries, its economy has not succumbed. Even this week, it's been warned that China is considering supplying Russia with weapons to continue its war of aggression. The war is far from over, and while the president shows his utmost support to uphold democracy, victory for Ukraine is still undecided.
About the Contributor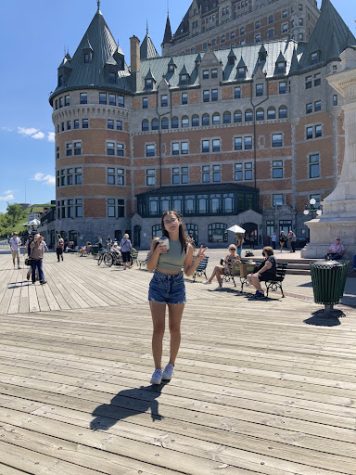 Samantha Redifer, Staff Writer
Hi everyone! My name is Samantha Redifer. This is my second year in Journalism and my senior year of high school. Most of my summer was spent doing summer...