Jeff Jackson's use of Tiktok
"Congressman Jackson became the second-youngest senator in the state Senate in 2014." Jeff Jackson is a politician and a member of the Democratic Party who currently serves as a member of the North Carolina Senate, representing District 14. Before his political career, Jackson served in the U.S. Army as a Captain and later attended law school at the University of North Carolina at Chapel Hill. He has advocated for various progressive issues, including expanding healthcare access, protecting voting rights, and combating climate change. Jackson has gained national attention for his support for gun safety measures.
Jackson has received increased recognition in recent months for his role in keeping the general public informed of congressional debates. In recent months, he stated on a podcast that he contacted approximately 200,000 constituents with Tiktok while other Congressional Members.
He has done an excellent job of informing the public, using the well-known social media tool TikTok to communicate with his constituents and further his political agenda. While other politicians have been hesitant to adopt new social media channels, Jackson has used TikTok to reach out to a younger audience and disseminate his message. For example, a few days after the meeting with Congress over whether Tiktok should be outlawed, Congressman Jackson produced a video updating the public. Jackson has also used TikTok to promote his legislative agenda, posting films on important topics. For example, he filmed videos about the Ukraine war, the March Silicon Valley bank run, and other abortion-related themes.
Through his use of TikTok, Jackson has drawn attention and been mentioned several times in reference to his creative, smart use of social media to connect with younger generations. Other politicians have praised him for his capacity to involve younger voters in the political process. Several content creators on Tiktok have also acknowledged Jeff Jackson's ability to post on Tiktok to keep the public informed, taking advantage of the platform's capacity to spread in spread the message targeting the youth.
Jackson was successful because he embraced new forms of social media and used them to advance his political agenda at a time when many politicians were struggling to connect with younger voters. His innovative use of TikTok has enabled him to communicate with more people and develop true relationships with his fans, demonstrating that even in a constantly evolving digital context, politicians can do the same.
About the Contributor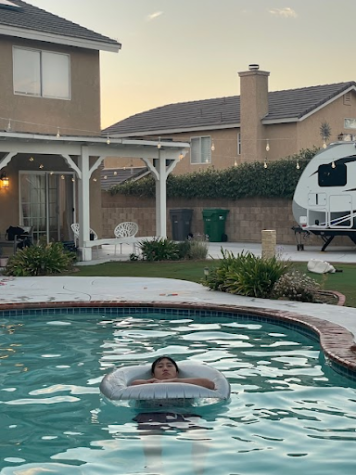 Ian Kim, Staff Writer
Hello! My name is Ian Kim. I am a junior at Quartz Hill High School and this is my first year in Journalism. I like games, skating, skiing, swimming, and...