Mike Tyson Back in the Ring?
Former heavyweight champion Mike Tyson, also known as "Iron Mike," undoubtedly became one of the most iconic boxers ever. Earning an impressive 50 wins in his career, 44 of them won by fight-ending knockouts, it is safe to say that Mike Tyson is one of the best in his sport. Many people were fortunate to see him in the ring in his prime. However, after his announcement to retire in 2005, 20 years passed since he last stepped in a ring to fight. Fans yearned to see him in action; just recently, Tyson had insight on if he plans to come back into the spotlight soon.
Recently, an interview with TMZSports caught up with Tyson and asked the question lingering in the minds of hundreds: "Will you return to the ring?"
Plus, what led Tyson to step out of the ring? On June 11, 2005, the champ once dubbed "The Baddest Man on the Planet" stepped between the ropes to take on Kevin McBride, an Irish-born heavyweight who had spent most of his pro career in the United States. After the fight ended in the seventh round, Tyson lost. After that, he announced his retirement by saying, "I don't think I have it anymore. Because I got the ability to stay in shape. But I don't got the fighting guts; I don't believe anymore. I don't have this in my heart anymore."
The interviewer asked if he would referee the fight between the undefeated English boxer Tyson Fury and the 2021 Heavyweight champion Francis Ngannou. Tyson agreed with the request and was asked, "Your last fight was against Roy Jones. Roy's taking another fight against an MMA fighter. Will you ever take another fight, by any chance?" 
Tyson's reply left fans anxious and wanting more: "You never know." 
The interviewer further stated, "I love that. But everybody would love to see you in the ring, my friend." Upon hearing this, Tyson nodded in agreement and added that he would love to see himself step inside the ring again. 
Fans are left thinking about whether or not he was serious. No matter his intentions, it gives people hope that they may be able to see him fight just one last time, even if it wasn't exactly like 20 years ago. All we can do is watch from the sidelines and hope that we will be able to see the heavyweight champion come back into the sport, land another knockout, and take back the title of "Iron Mike."
About the Writer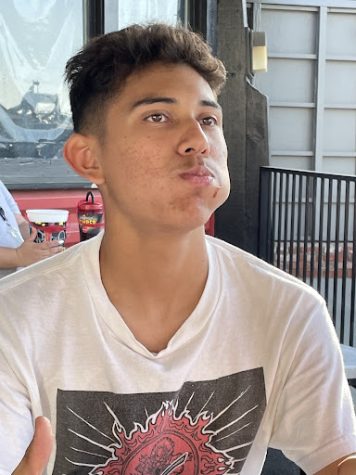 Isaac Orellana, Staff Writer
Hi! My name is Isaac Orellana, I'm a junior, and this is my first year in Journalism. I don't know much about this class, but I do enjoy trying new...