Review of Guardians of the Galaxy Vol. 3
"Guardians of the Galaxy Vol. 3" was a highly anticipated movie in 2023. There were many expectations this movie had to uphold, and based on reviews posted online, it fulfilled the audience's wishes. The film gained an 82% rating on Rotten Tomatoes Tomatometer and a 92% audience score. Many comments about this movie were also very positive, such as this review by David Hogan, in which he said, "It's so rare to see a film so perfectly crafted and cast. Forget 'MCU films' or 'Comic book films,' Guardians of the Galaxy is just a great film, period." Mike Massie said, "Contains all the excitement and adventure one would expect from a Marvel superhero movie. Still, the glue that holds this ragtag band of outlaws together is the humor." The new Guardians of the Galaxy movie was well-received and loved by many Marvel fans. Viewers follow the emotional journey to saving Rocket while fighting evil and their battles. 
One very prominent feature of the movie was its soundtrack. It included various music from the 60s, 70s, 80s, 90s, and 2000s. This range of music was a favorite for many fans as they got to listen to music that fit the vibes of the story. There were features from Radiohead, Earth, Wind & Fire, Beastie Boys, Heart, Rainbow, Spacehog, The Flaming Lips, Faith No More, Alice Cooper, The Mowgli's, X, Florence + The Machine, Bruce Springsteen, and The Replacements. There was also another feature that made fans from a particular fandom very excited. It was "Koinu No Carnival" by EHAMIC. This song is a Vocaloid song from Classicaloid. It surprised many Vocaloid fans to have a piece from their genre in a Marvel movie. They were happy with the feature, and those who hadn't watched the film were excited. The Guardians of the Galaxy Vol. 3 music definitely stuck out to many. 
When interviewing students about this new Marvel movie, they had some interesting things to say. Firstly, an International Baccalaureate program junior, Joshua Schneider, talked about how he "loved the movie's cinematography, and the storyline almost brought [him] to tears." He also said he watched the movie with his family, and everyone thought the ending was good. Another student, Anandika Saharan, a junior in the IB program, passionately said, "My favorite feature of this movie was the music." She explained that her music taste mainly consisted of 80s and 90s music, making her happy that some of her favorite songs were in the movie.
Even the students of QHHS have expressed their appreciation for Guardians of the Galaxy Vol. 3, which matches the liking the movie got from fans worldwide. Based on what people are saying about this movie, including the students in our school, this movie would get an 8/10 for its excellent plot, soundtrack, and performance. 
About the Contributor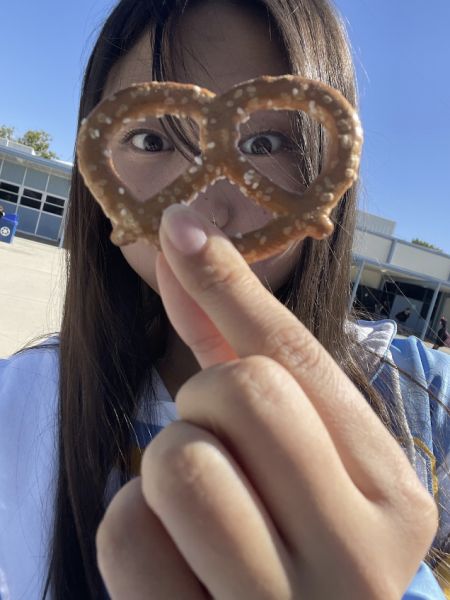 Judy Lee, Staff Writer
Hello everyone! I'm Judy, a senior at Quartz Hill. I joined journalism during eleventh grade and decided to join again because I enjoyed it last year....