Macbeth and Hamlet are Dirt-Poor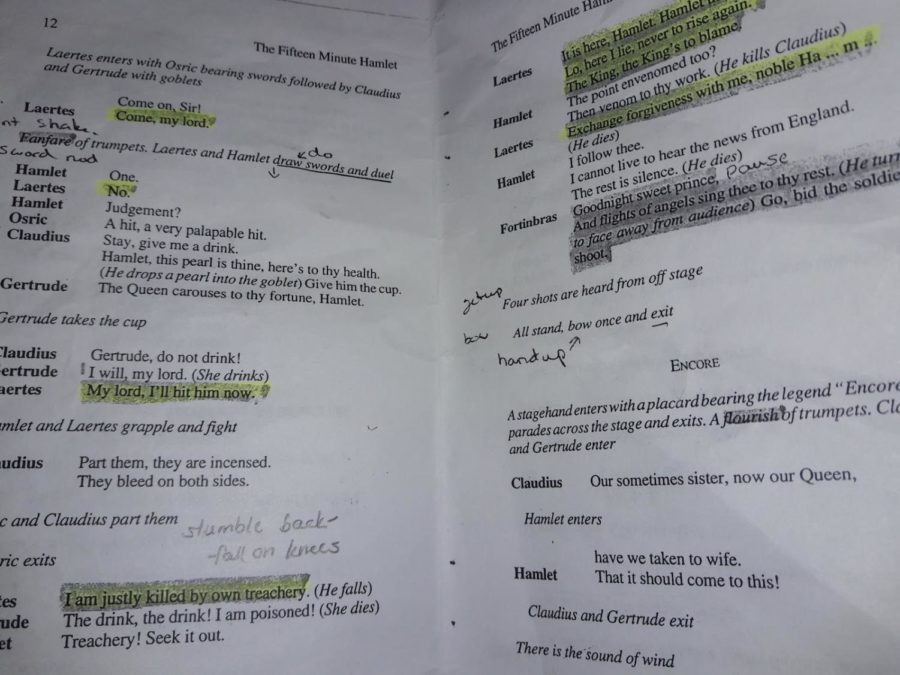 The recent Quartz Hill speech contest with the prompt "your song, your story, your voice for leadership" asked students to convey their relationship with the arts and how the arts encourage leadership both inside and outside of the classroom. Ironically, although the prompt called for students to connect with the arts, the arts programs in Quartz Hill are in a sad state of disrepair.
Quartz Hill's newest band teacher, Mr. Mark De La Vega, spoke about the condition of the band program. Discussing if he believes the band program has all of the materials they need for both practices and performances, he replied, "The band program has grown more and faster than anticipated. So, some students have to rent equipment because a lot of the equipment is in disrepair. It's so old."
Now, while older equipment can still crank out what resembles a tune, it is harder to make music with these instruments. New or continuing band students can find themselves discouraged while learning how to play on older instruments.
Mr. De La Vega said, "It would be great to have new equipment, but you have to be practical. It's a tough position, and when budget is prioritized, you have to think about where the money is coming from and how you're getting it."
Our band is not the only art program lacking in funds. In Drama, students are forced to use old props and conjure their own stage makeup and costumes with little to no budget from the administration. When a production is put together with sheer force of will and grit, some are discouraged by the fact that there is no stage on which to perform. They are forced to perform in a cafeteria that can barely fit 100 people, with basic lighting and sometimes no sound system.
Those same students look at the football team with their expensive flat-screen televisions and stands that fit hundreds more than the Spartan 200 cafeteria. Then, they compare these to what the school provides for their drama program. The drama program has a single computer lab that the girls use for a dressing room, a pair of makeup kits that always seem to be running low on products, and a single clothes rack that is used for costumes. Everything else the students must provide for themselves. When you see such a stark difference in the budget for extracurriculars at the same school, one finds themselves asking just where that money goes and why it goes there.
Dr. Ybarra, Vice Principal of athletics, explained why so much money goes towards the athletics department as opposed to the arts programs: "Every year, equipment has to be replaced and new uniforms must be bought. The department needs working equipment, and a lot of this is purely for the safety of the athletes."
He reasoned that the athletics department could always use more money and that while they were content, at the same time, they also did lack the space needed for Quartz Hill athletes to perform. "We don't have a pool for the swim team, so they have to practice over at Marie-Kerr, and aside from that, we can always use larger facilities."
Speaking of the art program's poor funding, he explained, "I don't believe there is a bias from the administration. I would want to accommodate for all, truly I do, but I don't want to have to take away from other students to achieve that for the arts program."
One of the freshman drama students, Marcus Zuniga, expressed his frustration on the funding that goes towards the arts programs: "According to a few of the seniors, we tried getting a stage a few years back, and didn't get it, obviously. But, you know what the football team has: two 100-yard fields and a stadium… Sometimes I think they value sports over everything else at this school."
Speaking about the discrepancy, Coach James Vondra explained, "The school provides us with a lot of money, and then our booster club raises another $50,000 a year for us to do what we do. The school gives us an additional … it's somewhere over $100,000. I don't know if there's a bias. I just think that sports bring in a lot of money – the money they make from games funds all of the student activities for a whole year. It enables ASB to do a lot that they do at no cost."
On top of that, he hypothesized that the arts do not have enough of a following from the community or the students themselves: "A lot of the arts here are classes. There aren't many extra-curriculars here. For the arts to get more funding, more students will have to get involved: [put on] more plays, invite more people with admission fees, [receive] donations from the community, and over a period of time, you can definitely raise enough money. But, I don't know where a stage would fit here, on the Quartz Hill campus."
Getting a stage for the Drama Club, new and more instruments for the band, paints for art, clay for pottery, and generally a larger following for the arts would greatly influence how much money went into the arts. The students can try to gain more money for arts, but for programs like art and film that do not have performances to showcase their talents, it is more difficult to raise money. So, in situations like these, it is up to the administration to invest in the arts. When that finally happens, the students' morale will rise, and the rest will follow suit.