Blue vs Gold Swim Meet
On Wednesday, February 21, the Quartz Hill Rebel swimmers had their first meet of the season. The Blue vs. Gold meet was a mock meet where Quartz Hill's varsity boys' team and the junior varsity girls' team (Gold) competed respectively against the varsity girls' team and the junior varsity boys' team (Blue).
Although the Blue and Gold meet is not an official competition, it helps prepare the new swimmers because the coaches treat it like a real meet, giving them a sense of what it feels like to race. It also gives the swimmers a chance to see where they stand in relation to their teammates and improve on their skills. The coaches offer constructive feedback on how the swimmers can better their techniques and improve their overall performance.   
Junior varsity swimmer Emma Lane stated, "The Blue vs. Gold meet was a good chance to get an idea of how this season is going to play out. It also gave many new swimmers the opportunity to swim in a meet because, this season, there are a lot more swimmers than there are spots."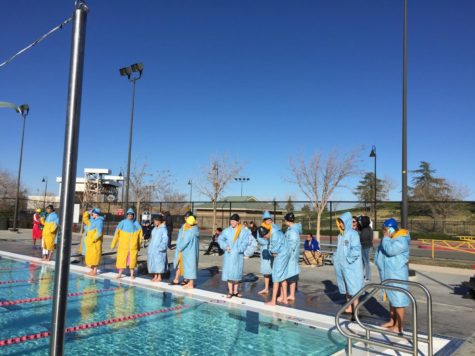 This event also gave coaches a better idea of what they need to focus on more during practices. Helia Hedayati, a sophomore and second year JV swimmer, said, "At the end of the meet, the coaches told us that they saw very few mistakes. The few mistakes that they did catch were very minor (e.g. the timing on relay starts)."
Although the Rebel swimmers are notorious for swimming in extreme weather conditions, they were still hoping for a warmer weather that night. "It is very difficult to go through a meet when the weather is not in our favor because each time we step out of the pool, our bodies experience a drastic change in temperature. Unfortunately, the weather at the Blue and Gold meet was not ideal; but as always, it was tolerable," said Hedayati.   
Bad weather did not hinder the experience that the swimmers gained from participating in the Blue and Gold meet. In addition to their diligent efforts on Wednesday, these swimmers have worked extremely hard during past practices to ensure a victorious season. At the end of each practice, Coach Brian likes to remind the swimmers that "The pain you feel today is part of the glory you'll feel later," and this is what drives the athletes to improve and succeed.
About the Contributor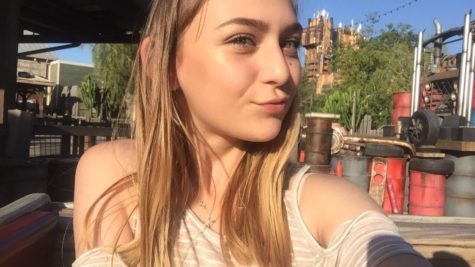 Natali Josevska, Staff Writer
Hello! My name is Natali Josevska, and this is my first year doing the QHHS Ubiquity. In my free time, I enjoy shopping, watching Grey's Anatomy, and spending...