New Documentary Features One of QHHS's Own Alumni
A new documentary, 'The Dawn Wall,' premiered at Cinemark 22 on September 19th. A story of adventure, the film follows the life of Tommy Caldwell, a prodigée rock-climber determined to climb an impossible cliff. Among shots of brave men scaling dangerous cliff-sides are recounted stories of adventure, bravery, and danger, such as a story of being held hostage in Kyrgyzstan. Caldwell had been a climber for many years, starting young and quickly becoming an international figure in the mountain climbing community. Following Caldwell were a small team of photographers, scaling the walls with him.
In that small team of photographers, Quartz Hill High School's own alumni Corey Rich worked in the filming of the documentary. Rich is an adventure photographer, specializing in outdoor sports such as rock climbing, skiing, canoeing, and biking. The majority of the photographer's work depicts awe-inspiring photos of people performing a number of extraordinary tasks: clinging to cliff faces, kayaking in the tropics, and camping on the sides of steep mountains. Residing in Lake Tahoe, California, the artist travels to exotic destinations to take photos as well.
Rich has worked on countless other projects, too. Currently an ambassador for Nikon, the photographer has worked on projects with Apple, Columbia Sportswear, and Discover. The artist also claims to have had his work featured on over 100 magazine covers. Coming from the Antelope Valley and graduating from Quartz Hill High School, Rich has found great success by following a passion he has had for years.
Many skilled photographers, artists, and masters of other fields have emerged from Quartz Hill High School. Bradley Steven Perry, popular Disney Channel star, attended the school only a few years ago, and soccer player Kiel McClung graduated from the school as well.
The Antelope Valley is no stranger to celebrities, either. Aldous Huxley, writer of Brave New World, took residence in Llano del Rio, a small community near Littlerock, California. "The Crows of Pearblossom" was written as a children's book, inspired by the Mojave desert. Judy Garland, known widely as Dorothy in The Wizard of Oz, was also raised in Lancaster, her childhood home having gone up for sale only one year ago.
Many people from the Antelope Valley find success in life with a countless number of people from the area moving on to find rewarding careers in something that they are interested in. The Antelope Valley gives residents streets to play on and parks to run in but also offers a vast desert to explore. The adventure involved in living in the desert is what gives many their inspiration to create art.
About the Contributor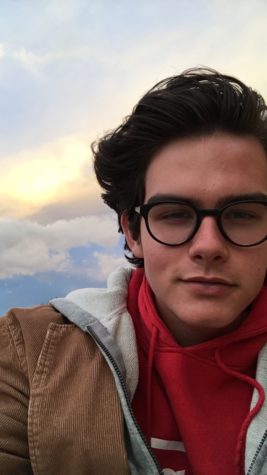 Tyler Sinness, Staff Writer
Hi! I'm Tyler. I spend my free time reading, running, and writing. You can often find me interning for local politics or organizing events around town....