Wrestling: QHHS vs LNHS
On Wednesday, November 28th, the Quartz Hill Rebels faced off against the Lancaster Eagles at the Lancaster High School Duel Meet. This, however, added to the devastating effect, as QHHS shut out Lancaster 82-0, two points off of a perfect 84-0 score.
The reason for this slip of perfection was that in one weight class, the Quartz Hill Wrestler failed to win by pin, and instead won by points, granting the team four points in the duel rather than the six points that would be achieved from a pin. Quartz Hill wrestlers proved that their practice had paid off by completely leveling Lancaster in all 14 varsity weight classes, moving Quartz Hill one step further to the Golden League title.
At 145s, the match was a quick one, with Chavez, the Quartz Hill Varsity 145, pinning in the first period.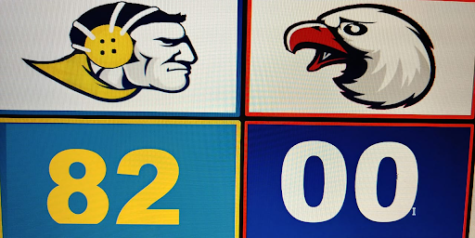 At 195s, Ethan Capps slipped out of a front headlock, ruthlessly pinning the Lancaster wrestler after a snatch single to an outside trip.
In the heavyweight class, Antonio Samulde pulled through after getting snatch singled by the enemy wrestler and using his backward momentum to turn the match in his favor by performing a head and arm throw pinning combination.
At the 113-pound weight class, Zach Burgdorf beautifully executed a Grandby Roll on the bottom, which ultimately led to his victory in the weight class.
Liam Duffin fought a long hard match in the 126 weight class, executing overall good moves throughout, however, it was the tightly locked nearside cradle pinning combination that won Quartz Hill the weight class. The fastest match was at 220s with Max Maldonado pinning the enemy wrestler in just under a minute! The varsity dual meet match footage is available on the Quartz Hill Wrestling Youtube channel or at the link provided at the end of the article.
Steamrolling a team like this is impressive; however, the Quartz Hill wrestling team continues to practice harder than they ever have before, learning new moves and perfecting old ones. Testing endurance and practicing split-second speed and strength. Getting ready for the next obstacle that dares get in the way of their 27th Golden League title. Quartz Hill is scheduled to face Palmdale on Wednesday, December 5th and AV the following Wednesday on December 12th. Hopefully, our Rebs will persevere in the coming dual meets, but only time, practice, and determination can tell. GO REBS!!