The Rivalry Game
    The highly anticipated rivalry game between two of the best basketball teams in the valley took place at home, Quartz Hill High School. The Rebels had a record of 2-2 going into the game while the Highland Bulldogs had a league score of 4-0. Not only did the Bulldogs have no losses, but they also went into the game with a clear size advantage over the smaller Rebel team.
    When the game began, the players moved swiftly, passing and dribbling the ball at a fast pace. The Bulldogs immediately showed their clear advantage at the glass by their ability to get rebounds and to score second-chance points. The smaller Rebel team was struggling at the beginning, but was still able to show their quick offense towards the later half of the game.
    The Bulldogs were able to dominate inside, as most of their points came from inside the paint. With the Bulldogs having such success in the inside, the Rebels were having a rough time defending.
    Daniel Cho, the varsity team captain, stated, "We were at an obvious disadvantage, but we still played at the high pace and intensity that I knew we could play at."
    Although the Rebels were struggling on defense, the team was still able to score on their own offensive possessions. The first half continued with the Rebels struggling to get rebounds; however, they were still able to score and keep the game close. The first half ended with the score of 28-24, with the Bulldogs on top.
    The Rebels came out of the first half saddened, but they had not given up yet. Our team was able to make more three-pointers than they made in the first half. Daniel Cho was able to get an open three point shot off, giving the Rebels the lead they needed.
    Cho stated, "It felt really good to hear the crowd clap because we usually don't have a huge crowd at our games. I feel like I performed very well, and in front of the crowd it only turned my intensity up."
    Cho shot three out of the four three-point shots he attempted that night. This gave the Rebels a massive boost of confidence and also got the crowd very hyped.
    Although the game was very close, the Bulldogs unfortunately won the game by four points: 59-54. Despite this loss, the Rebels plan to improve and better their performance in their upcoming game against the Palmdale Falcons. We wish the best of luck to the Rebel basketball team!
About the Writer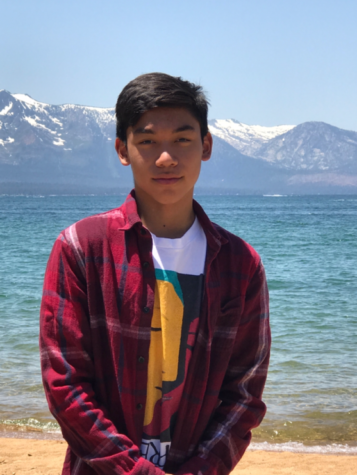 Dean Payne, Staff Writer
Hey guys, my name is Dean Payne.  I am 15 years of age and am currently a junior.  In my future, I would love to attend a top level engineering school...