Freshmen DISQUALIFIED
By Alex Kim, Staff Writer
February 16, 2019
During every spirit week, there is a race to collect the most spirit points by posting photos on Instagram using each class' respective hashtag. At the end of the year, the class with the most points earns $1000 to throw a class party.
The freshmen have consistently lost these races, typically ending up in fourth place. However, during the Winter Spirit Week, the freshmen gained the most amount of points as a sudden turn of events. In less than 24 hours, the freshmen's hashtag had over 1,200 photos, putting them vastly in front of second place: the sophomores, at the time, had only 800 posts. This may seem like quite the feat, but nearly all of those photos had nothing to do with the actual spirit week. Several accounts were created on Instagram for the sole purpose of spamming pictures that had nothing to do with the spirit week under the freshman hashtag.
One anonymous source involved in the freshman fiasco shared that the idea for the event sprung out of boredom. "Basically, I was bored and I started spamming the hashtag with a picture of Thomas the Tank Engine." After a while, though, he was not alone in the spirit spam. "After about 300 of my posts, five to ten other people were spamming the hashtags with accounts we created for that sole purpose. We called ourselves the Spamming Syndicate. One member of the Spamming Syndicate who has nothing better to do contributed close to 900 posts to the hashtag. We never intended to win the race. That would be idiotic of us. We just wanted to make a funny joke."
Unfortunately for the Spamming Syndicate, many students did not receive the joke very well. For example, freshman Camille Sevilla said, "I was irritated because the spirit commissioners are the ones who count up the spirit points, and once you go on the hashtag, it is literally the same thing over and over again. Just looking for actual posts is a waste of time."
Many sophomores were also annoyed by the endless spamming. Prior to the formation of the Spamming Syndicate, the sophomores were on course for a victory and were, understandably, concerned about the ineligible posts. Yet, the sophomores still won, as ASB quickly recognized that the freshmen had cheated and thus disqualified them. This makes the  Class of '22 the first class in Quartz Hill history to get disqualified from a spirit point race.
About the Contributor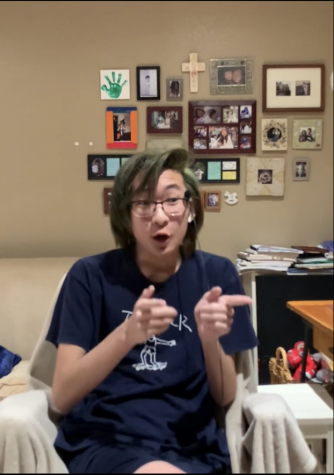 Alex Kim, Staff Writer
Hey all, Alex here. I'm a pretty big movie fan: I watch around one hundred movies a year, and I try to make sure that most of those movies are not dumb...