STEM Day for Girls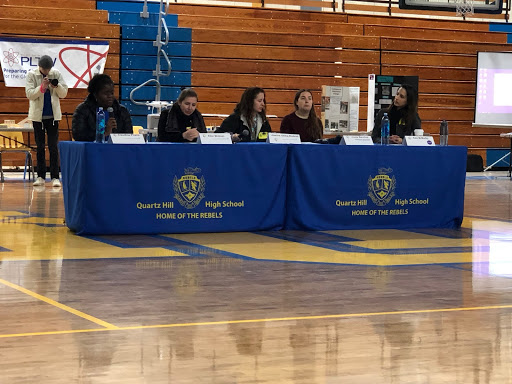 STEM Day for Girls was an event that allowed female students to sign up to go to an assembly that focused on engineering from a woman's perspective. The assembly's main purpose was to inspire female middle and high schoolers to join STEM programs. The assembly took place on Friday, February 22 during second and third period, so girls interested in attending were required to sign up in advanced to be excused from their classes. Additionally, there were many students from various local middle schools.  
During the assembly, a group of five female engineers sat at two tables in the center of the big gym. Behind them, ten tables were set up with displays of different examples of female engineering feats on them. Each of the engineers started off the assembly by introducing herself and sharing her journey, from how they became interested in engineering to what it has been like to be a woman in the STEM field. The engineers then proceeded to answer any questions the audience had. This Q&A lasted the entirety of second period.
In the second half of the assembly, the middle schoolers were taken on a tour of the school campus while the QHHS students viewed the ten tables at the back of the gym. At the back tables, there was information on different engineering companies and agencies such as Lockheed Martin Corporation. Additionally, the tables had chromebooks that displayed information about PLTW launch modules, gateway units, and biomedical science courses. This information was meant to inform the girls of the number of engineering programs and scientific classes that are available to them in high school and college.
Freshman Tori Gomez was one of the many girls that attended the assembly that day. She shared her experience, saying, "I went to [the assembly] last year, so I already knew what they were going to say. It is the same exact assembly, but when I went for the first time, I learned a lot about how you do not need to have everything planned out in order to end up successful or in a high position. It was also interesting to me when they said that different careers could be derived from different majors." STEM day for girls was an important experience for all who attended. It will surely inspire at least some of the female students in the audience to pursue STEM professions, now that they know they are full within their reach.  
About the Contributor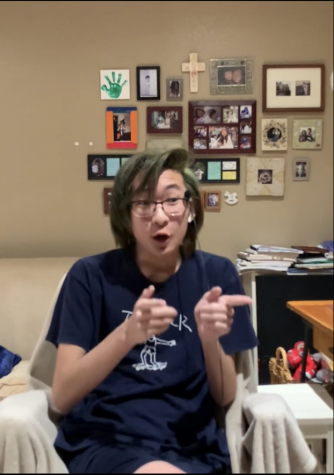 Alex Kim, Staff Writer
Hey all, Alex here. I'm a pretty big movie fan: I watch around one hundred movies a year, and I try to make sure that most of those movies are not dumb...