Bring Your Pet to School
Due to the stress and pure feverish anxiety of the final semester or the school year, the administration and our very own student government have come up with a wonderful idea that will bring a smile to the faces of everyone on campus. This upcoming April, the brilliant minds of QHHS are bringing the student body a day no one will forget: The Pet Extravaganza. This event is one that has been used in many schools across the globe. It has been scientifically proven that support animals such as cats, dogs, and in some cases rabbits, can bring people joy, and with it, a sense of peace. This is the much needed break that we students need. This event will be one of the last times for students to unwind and relax right before exams rush forward and consume all of the joy in life.
One of the greatest things about the Pet Extravaganza is the perk that students can bring their own furry friends along with them! The students who do choose to bring their own pet must keep the guidelines in mind to make the experience fun, but also safe. All rules and details are on the QHHS website at: qhhs.org under the "school activities" tab. All pet owners must provide their own leash (if needed), crates, food, toys, and anything else needed to spend a day with their dog at school. On top of this, any and all waste produced by an animal must be cleaned, or the owner will receive summer school and/or in-school suspension.
But even though this is an event created for the students. It is important to keep in mind that this event is a privilege, not a right. If the guidelines aren't followed, and all pets are not cared for and accounted for the event will be permanently canceled from this campus. But if the student body can work as a unit to make this event run smoothly, it will be revived yearly, every April. The Pet Extravaganza is an event that can become a great tradition for our school and greatly benefit the students as well as the staff. So if the student body wants to end every year with an event that will leave them energized and rejuvenated, they must work together to make sure this event doesn't completely flop. As for now, happy April Fools.
About the Writer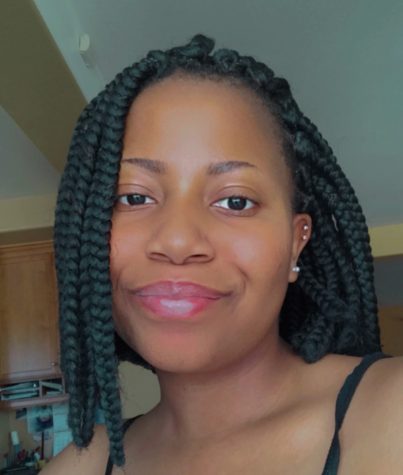 Violet Mbela, Assistant Editor
Hello! My name is Violet, I'm a senior and I'm so happy to be spending my final year in high school as a member of The Ubiquity! Not only did I further...