Battling Back-to-School
It is official: we have been back at school for a month, and now that students have settled into their mundane routines and adjusted to their unholy amounts of homework, QHHS held its first Back-to-School Night so that parents can finally join in on the fun.
Kicking off at 5:00 p.m., attendees were greeted with spectacular performances by a few of the school's many clubs: cheer, band, choir, and dance. The energy of each group radiated into the audience, lifting the spirits and setting the tone for a smooth night ahead. Following their performances, the school's principal Mr. Mercier addressed the students and parents present, welcoming them to QHHS's campus and to this new school year. His short speech was met with the tune of the bells, and families dispersed across campus to meet up with the teachers their students will be working with this year.
Mrs. Prewitt, an English teacher at QHHS, will be tackling a whole new class this year: AP Seminar. The class, in conjunction with AP Research, which will be offered starting the 20-21 school year, is part of a relatively new program known as AP Capstone. These classes, unlike most others, are not content-based, but rather skills-based, and the students will be required to be able to produce college-level research papers on a variety of subjects. Because of this shift from content to skills, Mrs. Prewitt is learning how to manage her three Seminar classes as she goes along. However, at Back-to-School night she expressed no fears about the challenges ahead, stating, "I love [teaching Seminar]. I like having the opportunity to learn alongside my students. I think the class is beautiful in that it will teach students skills that they will use all throughout college and in life."
Mrs. Prewitt, however, is not the only teacher on campus facing challenges this year. Señora Reyes, a popular Spanish teacher amongst students, has recently given up her Spanish 1 Honors classes to be able to keep up with the demands of her AP Spanish classes, despite the extra workload it will mean for her. When asked about her goals this year, she replied that she hopes all her students are successful on their AP tests in May and that her Spanish 2 students are able to communicate efficiently in the language. Despite her aims, Reyes did not hesitate to talk about the difficulties she is sure will arise throughout the year. Among such concerns were her observations that "stress is already evident among [her] students who are taking multiple AP classes." However, she ended on a lighter note, simply wishing to remind students that, though times may get tough, one bad test grade is not the end of the world, and, in the long scheme of things, the classes they are taking will help them immensely in their future.
While stress is a common theme in high school, particularly in AP and IB students, Brenna Manthey, junior ASB student, believes that the school year is not off to a bad start. She commented, "Classes are going well; as far as I know, no one has been having an especially hard time." Manthey also mentioned her observations on the freshmen, jokingly stating, "I have not seen the freshmen get too lost – well besides the first day, but that is normal."
Back-to-School Night is a very different experience for the various students on campus. For freshmen, the evening is the perfect chance to understand the new world they have entered; meanwhile, the seniors who still attend are able to get valuable information and resources that can help them tackle their symptoms of senioritis. And, well, for the sophomores and juniors, Back-to-School Night is another opportunity to try to manage the hectic life of a high schooler – and receive extra credit for coming, of course.
About the Contributor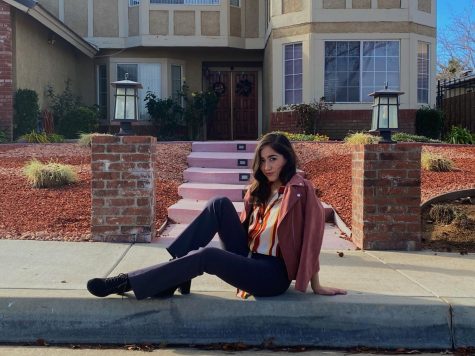 Melissa Canales, Editor in Chief
In one word, I describe myself as colorful. I adore watching sunrises and sunsets, reading books by candlelight, going on picnics with the stereotypical...