QH Guild Theatre's Upcoming Production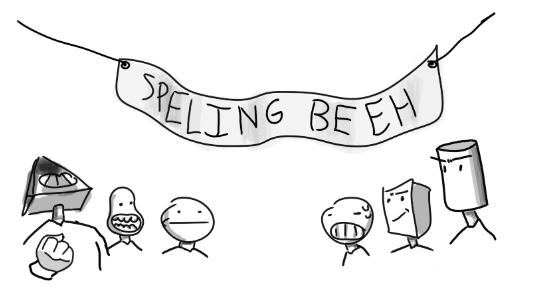 Every year, Quartz Hill High School's Quartz Guild Theatre puts on amazing productions that are the products of months of practice and preparation. This year's spring production has been announced and is currently in the works: 25th Annual Putnam County Spelling Bee. The show is going to be a lively musical equipped with song, dance, and the drama surrounding a group of twelve-year-olds and the adults in charge of them. 
The Music Theatre International summarizes the 25th Annual best, describing it as, "An eclectic group of six mid-pubescents vie for the spelling championship of a lifetime. While candidly disclosing hilarious and touching stories from their home lives, the tweens spell their way through a series of (potentially made-up) words, hoping never to hear the soul-crushing, pout-inducing, life un-affirming "ding" of the bell that signals a spelling mistake. Six spellers enter; one speller leaves! At least the losers get a juice box." 25th Annual is a musical for the entire family. At times childish and funny, the musical can draw out many laughs from your friends and family; however, the musical also goes into the home lives of the contestants, digging deep into issues and insecurities that will pull at the heartstrings of the audience and warm you up to the children on the stage.
The cast of characters includes six spellers and a group of adults who act to support (or harm) the speller's dreams of making it until the end: William Barfee who is dripping with vengeance after his title of runner-up in the 24th Annual Putnam County Spelling Bee; shy Olive Ostrovsky who tries her luck at the bee; Logainne Schwartzandgrubenierre who comes as the youngest competitor; Marcy Park, a recent transfer to the county; Leaf Coneybear, a carefree and easily-distracted speller; and Chip Tolentino, the former champion. Also on stage is Vice Principal Panch, who is wildly in love with Rona Lisa Peretti (though she does not return his affections), and Mitch Mahoney, the ex-con who is working on his community service hours by participating at the bee as a "Comfort Counselor."
All in all, this eclectic cast of characters is sure to steal your heart by the end of the show and leave you wanting more from Quartz Guild Theatre. 
Showtimes come in March and the show will be presented in the theater at Eastside High School. See you there!