A Recap of the Freshman's Boys Football Team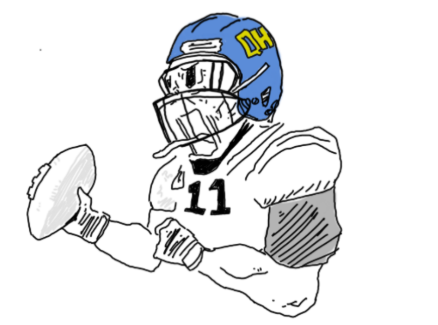 The freshmen boy's football team, after many months of practice, has concluded their season following their final game against Highland High School. The boys finished with a record of 7-2-1, which is rather impressive for the boys given the expectations put upon them. Freshman player Oliver Weese states, "Our season went better than I had expected, given the lack of players we had. You never really know how your team is going to do at first, but as we got going, we started winning and came out pretty good."
Stand-out players for the team included running back Ashton, who "really shined this season as our running back and receiver" according to Oliver, and star quarterback Dominic Smith. Dominic had a terrific season, scoring and providing countless touchdowns while also inspiring the team to perform their best. He is a true leader and his future in football is certainly bright. Ashton scored the most touchdowns for the team, which also makes him a truly valuable asset to the team.
Some strengths that carried the team to success this season were their amazing chemistry and talent. The boys truly bonded this season, which was reflected on the field multiple times. Also, the boys had strong leadership from both their quarterback and coach, which really helped them to get through a difficult season. The team looked a bit shaky at the beginning of their training, due to their lack of players, but were able to have a great season through effective coaching and training. One weakness the boys had this season was their physical strength. Oliver Weese states,"A major weakness that proved to be a detriment to us was how we couldn't hit. We did no hitting drills to prepare for the games, which really reflected during our first and second games. But even so, we still pulled it together." The boys' lack of ability to hit not only showed in their first few games but was also extremely evident in their loss against Highland. Although the boys certainly had no perfect season, they gave it their all and outperformed the expectations.
Oliver Weese, when asked about what advice he would give the freshman for next year, stated, "Don't be too hard on yourself; it's only freshmen year and you will get better if you push yourself. We can improve by practicing at the same intensity at the other levels. Never lose faith for that is what drives you to success." In all, the freshmen boys had a respectable and high-performing season. Hopefully, next year's freshmen boys will use the momentum from this season to achieve similar or better results.