How Was the World Series this Year?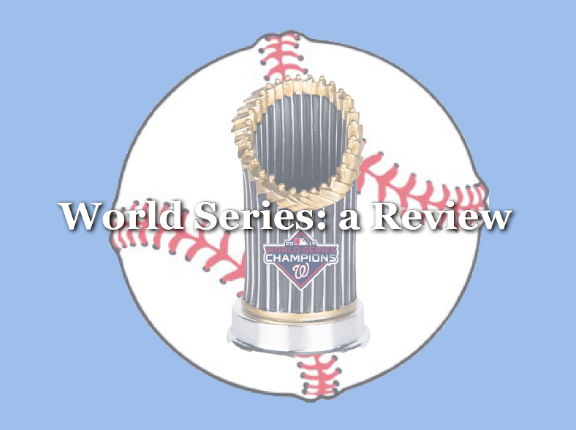 The World Series is a very popular and widely viewed sports game that people look forward to every year. According to a poll done by Ipsos, approximately 46% of all Americans planned to follow the World Series. This year's contenders were the Washington Nationals and the Houston Astros. Both teams have many talented players, but the Nationals managed to pull off a win. Of all the talented players on the Washington Nationals, one player stood out above them all.
 Stephen Strasburg, who plays pitcher, won the World Series MVP award and had the greatest impact on his team throughout the World Series. Despite his successes, Strasburg will not be staying with the Washington Nationals and instead will be going into free agency. Strasburg declined 100 million dollars in order to become a free agent, meaning that any team is able to sign him as long as he agrees to their terms. 
Another star player on the Washington Nationals is Juan Soto, who had a huge impact on his team throughout the season. Juan Soto plays left outfielder for the Washington Nationals and has had five home runs, 14 RBl's, and an impressive .277 batting average. Juan Soto is currently only 20 years old and positioned to be the next baseball star.
As the World Series approached, the Washington Nationals seemed to be more favored to win. When asked about her thoughts on the World Series, Destiny Solis replied, "I didn't really care about the World Series because the Dodgers weren't there, but I guess I was sort of happy that Washington won because I hate the Astros." Destiny Solis is a sophomore and a die-hard Dodgers fan. Many Dodgers fans seem to dislike the Houston Astros because they defeated the Dodgers and prevented the Dodgers from winning the World Series. For this reason, there was lots of support for the Washington Nationals.
This year's World Series had an interesting pattern of games. The Washington Nationals started strong, winning the first two games. The Houston Astros then took the lead by winning the next three games. However, the Washington Nationals pulled through by winning the last two games. After winning the World Series, the Washington Nationals were invited to the White House where they were greeted by President Trump. Washington Nationals' catcher Kurt Suzuki was seen wearing a MAGA hat to show his support for President Trump. Several players did not show up to the White House, possibly for both political and non-political reasons, but the team still enjoyed themselves after a historic victory in the World Series.