Powderpuff Football Game Preview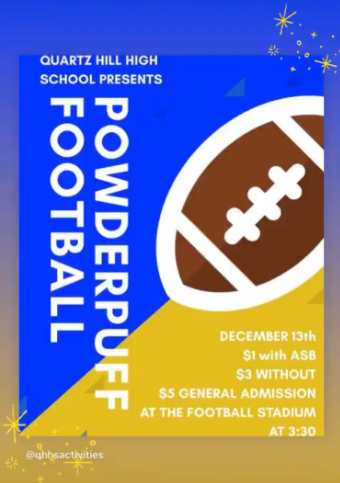 On Friday, December 13th, the first powderpuff football game at Quartz Hill High School in 10 years will take place on the varsity football field. The game will start at 3:30 and it will cost $1 with an ASB card, $3 without an ASB card, or $5 for general admission. All proceeds earned from admission will go towards charity. 
A powderpuff football game is a flag football game with junior and senior girls that normally takes place during homecoming week. This tradition began in 1945 at a college in South Dakota. Since WWII was coming to an end at this time, many men did not have the opportunity to enroll in college for the fall semester. The school was planning to cancel all homecoming activities, but the girls volunteered to take the boys' place in the homecoming football game. The tradition disappeared for a while, but reappeared in the 70s. The powderpuff game made a come back in high schools rather than colleges.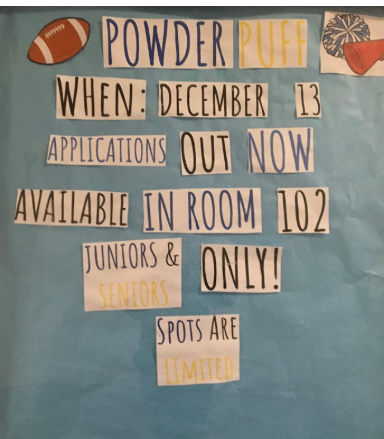 There are many girls that have already signed up to play at QHHS. Sullivan Salone and Kaitlyn Briones are playing for the seniors. Taylor Patino is a member of the junior team.  On the other hand, the boys will cheer for the girls and even perform a choreographed dance. 
Kaitlyn Briones, a senior at QHHS, decided to play in the powderpuff football game with her friends. She is excited to play and watch the boys cheer. Her team is preparing by participating in mandatory practices and scheduling extra practices to review plays. Briones encourages students to attend the game so they can watch the boys cheer and "watch the seniors beat the juniors."
Taylor Patino, a junior at QHHS, is excited to play in the football game with her fellow classmates. She is constantly reviewing plays and practicing them with her friends. She predicts that the game will be competitive. She reports that the boys have been practicing their cheers and stunts for the big day. 
Sara Pagliaro, a QHHS ASB student, is coordinating this event. She decided to bring it back after 10 years because her parents participated in the event in high school and she wanted to keep the tradition going. Pagliaro is competing in the football game as well. 
Although this event isn't new, it will surely be an interesting event that everyone should attend. Students should bring friends and family to the powderpuff football game to not only enjoy the game but also donate to charity.