Cats Is the Best Film Ever Made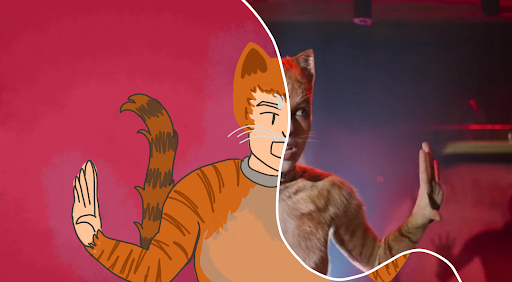 By Alex Kim, humor editor
February 24, 2020
Cats is undisputedly the best movie of 2019. Even saying that is a disservice to the movie since it's actually the best film of all time. From the directing to the acting, there is so much talent behind the movie. So let's talk about some of the wonderful people involved with the movie.
Cats was directed by Tim Hooper who also made a great 2010 movie titled The King's Speech, but I would go as far as to say that Cats is exponentially better than the former film. I totally have not lost all respect for Hooper as a director and human being and dropped my rating for The King's Speech from a 9 to a 7 on letterboxd. I would never do such a thing. Cats also has infinite talent just radiating off of each of the actors in front of the camera. For example, Taylor Swift, who was previously in that piece of garbage, The Lorax (2012), really redeems herself in Cats. Wait, did I call The Lorax a piece of garbage? I'm sorry. That was a typo. I meant to say "cinematic masterpiece." There are still a couple of big name actors in the movie. To name a few, James Corden, Rebel Wilson, and Idris Elba all have major roles in the movie. If you couldn't tell, each of these actors is incredibly talented and has had at least one fantastic performance in another movie. For instance, James Corden voiced the absolutely hilarious Hi-5 from The Emoji Movie. Rebel Wilson was funny in … something. And Idris Elba is unironically a great actor who chose to do Cats over literally any other movie. This clearly means that Cats has a script that won Elba over and not that the man is having a midlife crisis. 
But the film's writers Lee Hall and Tom Hooper should also be given great amounts of respect for the magnificent work they put into Cats. The movie is incredibly witty and funny. None of the jokes were embarrassing or made me want to stand up and leave the theater. I was just cackling in my seat the whole time. I definitely wasn't frowning the whole time. The movie was just a blast. I would dare say that it's the funniest film I've seen in my entire life. The characters are also so likable. I related to every single cat person in the movie. 
To put it short, Cats is the perfect movie. It's a perfect, comedy, drama, horror, character study, documentary, animation, action movie, date movie, and superhero movie. Once you watch Cats, you'll realize that you never need another movie in your life.