Derecho Devastates Iowa
As millions of Californians can attest, the power of nature can leave behind devastating consequences. While fires ravage California, Iowa is dealing with its own catastrophe. 
On Monday, August 10th, a powerful derecho, or wind storm, swept through eastern Nebraska across Iowa and parts of Wisconsin, Indiana, and Illinois. Trees were toppled, homes were torn apart, and power lines all across Iowa have gone down. USA Today's Doyle Rice commented on just how powerful the derecho was: "The storm had winds of up to 112 mph near Cedar Rapids, Iowa – as powerful as an inland hurricane." 
The derecho hit Cedar Rapids the hardest, leaving 600,000 Iowans without power, four dead, and many more injured. One man was killed while riding his bike through Cedar Rapids when hit by a falling tree, while another Iowan woman was struck by a tree while sitting on her porch that Monday. One man got electrocuted while trying to repair fallen electrical lines, and another woman and her 5-year-old grandson were trapped inside their toppled mobile home. The two were found with the woman cradling the child to protect him from harm. The child survived, but the woman, unfortunately, succumbed to the injuries she received when the mobile home was picked up and rolled by the winds.
Now, Iowa is still trying to recover from the blows delivered by the derecho. On August 26th, The Gazette reported that "As of Monday morning, approximately 48,000 tons of debris have been collected. Crews have completed their first pass on collecting curbside tree debris from about 20 percent of city roadways." At least 1,627 properties were damaged, and more than 1,000 homes are now "unlivable," CBS affiliate KGAN reported. And with a pandemic continuing to beat down on the country, and the enforcement of social distancing, it is almost impossible to find safe shelters for the newly homeless to reside in. As of now, there is still no solution to this problem, but relief efforts to help the affected Iowans are up and running. The Gazette relays that "The Teamsters Union partnered with other unions and community members to open a disaster relief center last week. Thousands of people affected by the storm have come through to pick up food, water, tarps, flashlights, diapers, and other essentials. The Teamsters have also been delivering essential goods into neighborhoods for people without transportation."
It is impossible to stop events such as these from taking place. Nature will always take its course. But for now, donating to relief organizations and checking up on the people of Iowa is the best thing we can do to provide support to the victims of this disaster.
About the Writer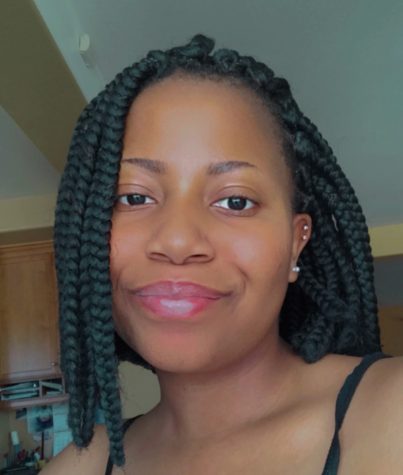 Violet Mbela, Assistant Editor
Hello! My name is Violet, I'm a senior and I'm so happy to be spending my final year in high school as a member of The Ubiquity! Not only did I further...