Messi's Future with Barcelona
Lionel Messi is a man who needs no introduction in the world of sports, or in any place, for that matter. He is arguably the greatest soccer player of all time and one of the youngest soccer players to sign with F.C. Barcelona. Messi made his first soccer debut at the age of 17 in October of 2004, and he has continued to be captain and prolific goal scorer for the team.
You would think that after 20 years of playing on the same team, it would be impossible for anyone even to consider Messi leaving his beloved team. Yet, with all the craziness going on in 2020, it only makes sense that this was a genuine concern among Barcelona and soccer fans worldwide. In August this year, Messi expressed to both his team and his manager, Ronald Koeman, his desire to leave the club. Though he never presented a specific reason for doing so, evidence suggests that the decision has to do with the off-field drama.
Messi first expressed his discomfort with Barcelona when he openly explained how he was upset at the club board for not signing Neymar da Silva Santos Jr., one of Messi's closest teammates and friends. Messi stated that when he asked the panel why Santos would not be playing on the team, the board responded with, "We couldn't sign him in time." This answer was unacceptable to Messi, and he promised that Santos would be playing with Barcelona. 
Next, Messi expressed concerns at the dismissal of the former head coach, Ernesto Valverde, in January. He stated that Valverde is a "top professional and top coach" while expressing his dislike for the former coach's displacement. On top of that, he expressed his uneasiness about player salary cuts during COVID-19 and had problems with his own salary.
Messi's lawyers always stated that he was not entirely sure about leaving the team he has a part of for most of his life. The lawyers sent in his wishes to walk off the team to see if they can end his contract by 2021, in case Messi decides to leave Barcelona for good. While it is still within the realm of possibility that Messi will ultimately decide against leaving Barcelona, the decision is still up in the air. Messi stated that he would go public with his reasons for leaving the team and his final decision on the matter in the upcoming days.
About the Writer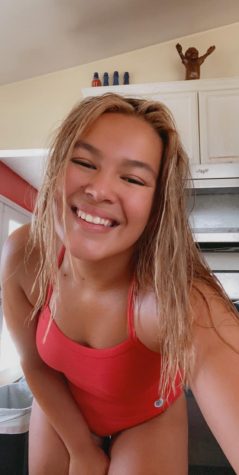 Angelina Joleen Tayama Reyes-Chavez, Staff Writer
Hi everyone! I may not know a lot of you, so allow me to introduce myself. My name is Angelina Joleen Tayama Reyes-Chavez. Yes, I know I have a very long...