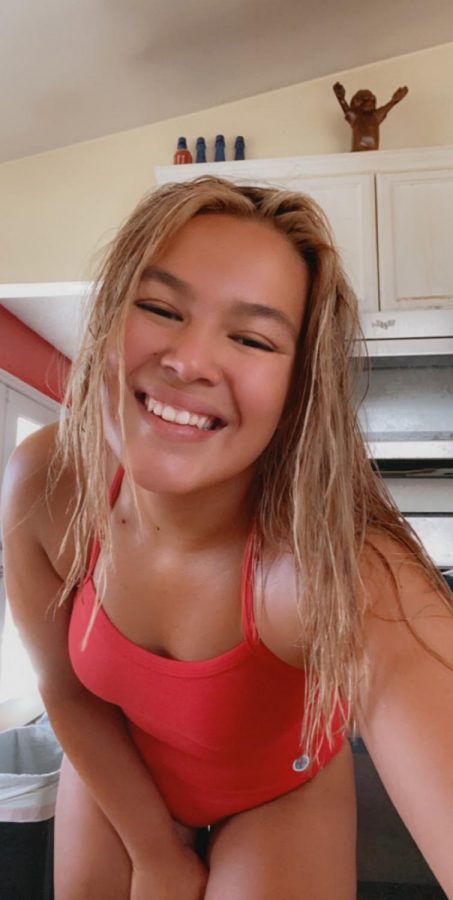 Hi everyone! I may not know a lot of you, so allow me to introduce myself. My name is Angelina Joleen Tayama Reyes-Chavez. Yes, I know I have a very long name. I am a senior and this is going to be my first year writing for The Ubiquity. This year might be a little funny and complicated because of what's going on, but I am determined to make it one of the best years of my life! No pandemic is going to kill my fun. Along with being a new member of The Ubiquity, I have also been on the varsity swim team since my freshman year! Let's hope I can make it all four years, fingers crossed. I'm a real simple gal, or at least I like to think so. I absolutely love food. If you give me something new to try, I will always give it a shot. However, no food will ever compare to my baby, Chicken Alfredo. Most of the time you can catch me hanging at beaches or at the pool, I'm a lifeguard so if you ever need some saving, give me a call. Lastly, I love meeting new people and making friends so if you ever see me around school don't be afraid to come up and say hi! I hope you have an amazing day you beautiful person!
9.28.20 Update
Hello, again fellow quarantiners! I am back with a big life update for all of you. I am sure that many of you guys have been finding ways to cope with being locked away in a house with not a lot to do for this whole quarantine just like I have. I am happy to announce that, during this whole mess, I have decided what I want to do after high school, and I started my journey to getting there. I will be joining the Airforce soon after high school ends. Recently, I spoke to a recruiter and they told me a lot of good information about it all and I am very excited. 
Distance learning has been getting on my nerves a little so I decided to take a little one day break. Don't get me wrong - I absolutely love distance learning because it is very self-paced and I like that, but sometimes I am going to need a slight break. I started to watch this show on Netflix called Girl Boss. It is about a woman who flips old clothes into amazing clothing that people want to buy. It is amazing and definitely gave me the mental break that I needed. 
If you ever feel tired or stressed from distance learning, never forget that it is ok to take a little break. Make sure you sit down, take a breath, eat a snack, and drink some water. It will give you some time to yourself and, trust me, it will make you feel much better. It did for me. Anyway, I hope to get to see some of y'all soon. If you ever see me don't hesitate to say "Hey!" and have a good day!
Angelina Joleen Tayama Reyes-Chavez, Staff Writer
Dec 11, 2020

Raven's Set NFL Record For Consecutive 20-Point Games

(Story)

Nov 08, 2020

Patriots Test Negative For COVID-19

(Story)

Nov 08, 2020

Antonio Brown Returning To The NFL Raises Concerns

(Story)

Oct 16, 2020

Pac-12's Season Begins In November

(Story)

Oct 07, 2020

Picking Favorites

(Story)

Sep 28, 2020

Dallas Cowboys Quarterback Speaks Of Off-Season Troubles

(Story)

Sep 22, 2020

More in the World of Entertainment

(Story)

Sep 11, 2020

Messi's Future with Barcelona

(Story)

Sep 05, 2020
Aug 28, 2020

COVID on the Court

(Story)

Aug 26, 2020

Food Was Not Created Equal

(Story)