Students Fight to take the SATS
Due to unforeseen circumstances— otherwise known as the pandemic— it is reasonable to question what the future of our schooling will hold. For the millions of high school seniors who's entire future rests upon the upcoming months, there is no room for uncertainty. 
Although most American universities have gone test-optional, some students are adamant about bettering their scores before application deadlines arrive. Scott Jaschick, a writer for Inside Higher Ed, reports,"Of the 334,000 students registered to take the SAT on Sept. 26, 183,000 will not be able to take the test. And of the 363,000 registered to take the SAT or the SAT Subject Tests on Oct. 3, 154,000 will be unable to do so." Since CollegeBoard had to cancel testing in certain areas due to COVID-19, some students insisted on driving for many hours just to reach an open testing site—even if said testing site is across state lines. 
While these test scores are not needed to apply to a majority of schools (a small number of universities retain prior testing policies), applicants hope to stand out amongst their peers by including competitive scores within their applications. Despite the competitive edge some students think a strong SAT score may provide them, some "test blind" schools, such as UC Berkeley will not be considering test scores at all. The Los Angeles Times quotes, "The University of California already had decided that test scores would be optional this year and three of its nine undergraduate campuses— Berkeley, Irvine and Santa Cruz— had said they would not consider scores at all." Even with these reassurances, many high school seniors refuse to believe that good news could be true. But, it is not only a matter of a competitive edge;  Some students insist on taking the SAT due to pressures put upon them by their parents who simply refuse to believe that colleges would cease in the consideration of SAT scores. 
Part of this mindset comes from a culture that has been cultivated within the American school system. This culture holds SAT/ACT test scores above all other achievements made during the school year. IvyWise informs that "Admissions officers look at 'hard factors' (GPA, grades, and test scores) and 'soft factors' (essays, extracurricular activities, recommendations, and demonstrated interest) to gain a full picture of applicants." Students must realize that, since the "hard" numerical factors of SAT/ACT scores have gone out the window, students must work even harder to perfect their personal statements and maintain their "soft factors." While that is harder to do with the new online format, it is possible, and, if anybody can do it, it is the Class of 2021.
About the Writer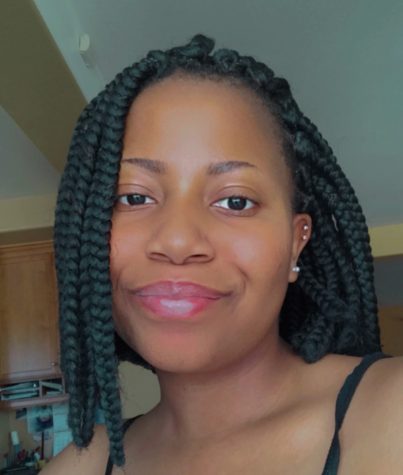 Violet Mbela, Assistant Editor
Hello! My name is Violet, I'm a senior and I'm so happy to be spending my final year in high school as a member of The Ubiquity! Not only did I further...