The SoFi Stadium Opens
In 2016, the Rams returned to Los Angeles, 22 years after the destruction of the LA Memorial Stadium in 1994 forced them to move to St. Louis, where they were known as the St. Louis Rams. Since their return— and their renaming to the LA Rams— the team continued to play in the LA Memorial Stadium until September 8, 2020. On this day, their new stadium was finally complete and ready to play for the 2020-21 season. This stadium is called SoFi Stadium.
Before getting into the information about the stadium, let's discuss the time, work, and money that went into creating the stadium. Construction began in November 2016, meaning it took about four years to complete. However, in 2017, construction was put on hold due to heavy rain, pushing back the opening of the stadium by a year. Then, in 2019, the stadium was officially named after SoFi, an online finance company that bought the naming rights for the stadium for 30 million dollars annually. When construction was complete, the overall cost of the stadium was roughly 5 billion dollars.
Now, let's get into the details of where each dollar out of the 5 billion ended up. The SoFi Stadium takes up 298 acres, 3.5 more land than the Disneyland theme park, and is 3.1 million square feet. This stadium will typically be able to hold up to 70,000 people, but can also expand to host 100,000 people during global events. If you can't tell already, this stadium is enormous. Not only is the stadium huge, but the arena includes a video board in the center that weighs over 2.4 million pounds and includes about 79.6 million pixels. There are also 20,000 square feet of LED ribbon boards between the five levels of the stadium.
The SoFi stadium is expected to be the site of the Super Bowl LVI in 2022, the College Football Championship in 2023, the opening and closing ceremonies for the 2028 Olympics, and many more notorious sporting events— after the pandemic, of course. 
Now that the stadium is complete, teams have wasted no time in trying out their new home. On September 13, the Rams won their first game in the SoFi stadium, while the team they share the stadium with, theChargers, lost their game on the 20th. Hopefully, when the pandemic ends and everything goes back to normal, fans can finally attend games at this stadium so they can experience it for themselves.
About the Writer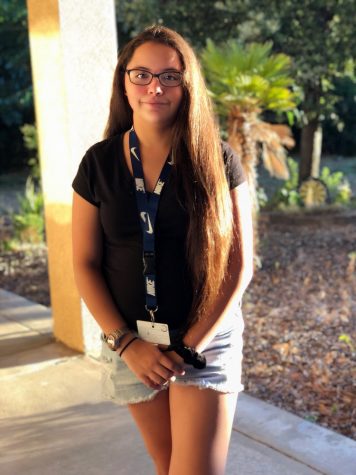 Ashlee Guardado, Staff Writer
Hey everyone, my name is Ashlee Guardado and this is my first year being a part of Journalism. Some things that I enjoy doing are playing soccer, sewing,...