Dak Prescott's Gruesome Injury and What's Next for the Dallas Cowboys
On October 11th, quarterback Dak Prescott from the Dallas Cowboys severely injured himself during a game against the New York Giants. The incident happened during the third quarter when the Cowboys were leading 35-34. During the play, Dak Prescott performed a quarterback draw to avoid being tackled at the scrimmage line. When he did that, defensive back Logan Ryan ran after and tackled Prescott. This type of play is commonplace in the football world. However, this play turned out differently because, when Ryan sacked Prescott, Prescott's foot got stuck underneath Ryan, leading to the gruesome injury. To fans all over the nation, this moment was heartbreaking and emotional. The Dallas Cowboys later announced that Prescott suffered a compound fracture and dislocation of his right ankle. With an injury like that, his 2020-21 season with the Cowboys ended. 
Something notable about Dak Prescott is that he is playing on the franchise tag. A franchise tag is a one-year contract that guarantees a salary for a player that is a predetermined player based on the average top five salaries by position from previous years. Prescott is guaranteed a paycheck of $31.4 million for 2020. With this injury, that number will probably change. Prescott usually declines the Dallas Cowboy's offers of extension contracts since he wants to receive a specific deal. Speculators rumored that he was looking for 45 million dollars to stay with the Cowboys, but Prescott never confirmed or spoke about the sort of deal he wanted. While he recovers, Prescott has time to agree with a team or stay with the Cowboys for an extended period.
Meanwhile, the Cowboys have their issues to sort out now that their quarterback is out for the season. Andy Dalton, the quarterback who got drafted this year, is stepping up as the new starting quarterback for the team. He is doing well as the new quarterback for the team, although, according to an ESPN article, Dalton's performance during the Giant's game was flawed. Bill Barnwell, the ESPN writer for this article, said, "Although a bad exchange led to a fumble, a short field, and a Giant's touchdown, the longtime Bengal's starter went 9-of-11 passing for 111 yards after taking over. With the game tied at 34, Dalton completed three passes for 72 yards to set up a game-winning field goal from Greg Zuerlein." Dalton made mistakes that a quarterback prefers to avoid during a game and almost cost the Cowboys the game. Despite nearly losing the match, Dalton saved the game, completing three passes that helped set up the game-winning field goal.
With any luck, Dalton will stop making these mistakes and successfully fulfill a starting quarterback position.
About the Writer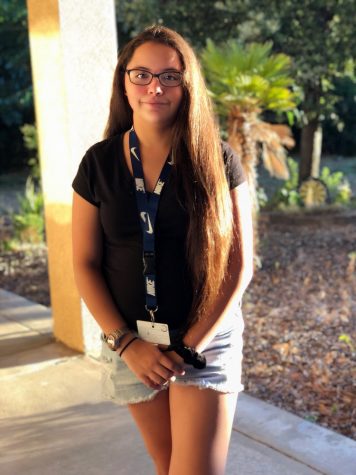 Ashlee Guardado, Staff Writer
Hey everyone, my name is Ashlee Guardado and this is my first year being a part of Journalism. Some things that I enjoy doing are playing soccer, sewing,...