Key Club 2021 Fall Rally
Key Club is one of many clubs students join at Quartz Hill High School. Being a part of this club allows you to serve your community by helping out with the service projects they provide. You learn how to become more of a leader and receive many opportunities to connect with other members from Division 38 West. Key Club, along with serving the community, also raises money for the Pediatric Trauma Program (PTP). It helps reduce the number of children in CNH (California, Nevada, and Hawaii) killed or injured by trauma, ensuring all children live happy, healthy, and safe lives. So every year, CNH holds a Fall Rally to raise over $200,000.
Fall Rally brings together many members from all over CNH to win the spirit stick at Six Flags Magic Mountain. All of the divisions practice their chants for the big day, and the main point is to be in sync and, most importantly, be as loud as possible. Last year, we could not have this event due to the pandemic; however, despite this sad occurrence, Key Club stood together and made it through the tough times by continuing to support PTP. A year later, we finally had the Fall Rally once more. CNH and Six Flags ensured attendees would be safe by requiring a full vaccination card or testing negative no more than three days before the event on November 13. Six Flags also provided a COVID-19 testing booth for those who wanted to test at the park. 
On November 13 at 9:00 a.m., the Golden Bear Theater was full of excitement and spirit. All the divisions wore tutus, held spirit sticks, waved around pom-poms, and many more items to show their support. There were six divisions in this rally, D16W  Axolotls, D16N Unicorns, D16S White Tigers, D16E Koalas, D42E Narwhals, and our club, D38W Owls. Before the actual rally started, all of the CNH leaders introduced themselves. Special guests announced upcoming events, such as DCON, an annual event held to celebrate the term's achievements and welcome the new term. Looney Tunes character Tweety Bird also came out to determine which division was the loudest, which was D16E and D38W. 
During the first round, everyone was chanting very loud and in unison with their creative chants that it was hard to tell who would make it. When the CNH officers discussed which four Districts would continue, the LTGs were auctioned off to give all the money each division raised to donate to PTP. When auctioned off, they get to spend time with the club that bid the highest. After CNH returned, they announced that D16S, D16E, D42E, and D38W would continue to the next round, which is fantastic since, in 2019, D38W did not make it past round one. 
Only one division would be eliminated in the second round, while the final three would compete in the final round. There was also a surplus of energy surging through the theatre, but unfortunately, D38W lost in this round after deciding between our club and D42E. Although we lost, at least our division made it past round one, which is an accomplishment. 
Finally, in the last round, the three divisions gave it their all and provided a spectacular performance. It was a hard decision to make, but the D16S White Tigers won the CNH Spirit Stick in the end. Despite the Owls losing, it was an unforgettable experience, and describing the event will not compare to physically being there.
I asked Key Club President, D38W Spirit Coordinator, and QHHS senior Destiny Solis about her experience participating in her first rally as a club officer. She responded, "Preparing for Fall Rally was a little stressful because we had to teach members the chants, which was a struggle, but we did it. I was proud we made it to the second round even if we didn't win because the last time, we didn't even get past the first round, so this year was progress, and I hope our division will get the spirit stick next year. I am so thankful for the members who have kept this club continuing and supporting Key Club after a year online. Also, my fellow officers are some of the best people I've worked with." 
Finally, I received a response from our division's LTG Kotomi Tucker, a senior at SOAR Academy, to ask her about her experience and a message for Key Club members. She said, "Hello everyone! Believe it or not, this is my first and last Fall Rally, and I'm so happy I finally got to go. I couldn't convince myself to go my first two years because I wasn't a big fan of rollercoasters, but looking back, I should've just gone. Take my advice and go to Fall Rally when you have the chance; learning chants and meeting members from other divisions is an experience you shouldn't miss out on! I'm grateful that Fall Rally happened this year. You could imagine how devastated I was when I was a junior, along with hundreds of other Key Club members. I not only had the honor of finally going to Fall Rally but serving my division and seeing everyone give their all during our session. Being on stage was a weird experience because I felt like I was supposed to be in the bleachers with my division, but seeing you guys cheering made the experience comfortable, and it was so much fun <3 I really do appreciate every single owl and their hard work; you're all amazing!! Continue to serve your community and school, and do your best! P.S. If you have any questions about Key Club, feel free to reach out to me :)."
About the Writer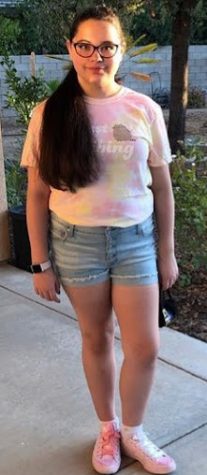 Ashlee Guardado, Staff Writer
Hi everyone, I am Ashlee Guardado, and I write for the Arts and Entertainment section! I was previously a sports writer, but I thought I could switch it...