States Lifting Mask Mandates in School and Why This Is a Problem
Ever since students started attending school again after two years of distance learning, there has been debate on whether masks should be required at school. For the safety of the students and staff, all persons attending school have been required to wear masks indoors. As of February 16, 2022, California's state-wide mask mandate in some indoor areas expired for vaccinated individuals. However, this did not include California public schools. It is predicted that this school mask mandate will last until the end of February, but the mandate should not be lifted until a definite decline of COVID-19.
On December 7, 2021, the Omicron variant emerged and caused a sudden spike in COVID cases. This highly transmissible variant was the cause of most of the new cases in communities. It resulted in many people being once again confined to their homes and restricted from learning or working. What's even worse is that the Omicron subvariant, known as BA.2, is even more contagious than Omicron. And according to the Chicago Department of Public Health Commissioner Dr. Allison Arwady, "I don't think we're done with variants."
With the continued number of COVID cases and the possibility of even more contagious variants appearing, the use of masks is more crucial than ever to attempt to end this virus. Students and staff should continue to wear and even upgrade their masks to ensure their own safety and limit the number of students quarantined.
As of February 17, 2022, ten U.S. states have bans in effect in order to prevent school districts from requiring their students and staff to wear masks. Four of these states (Florida, Oklahoma, Texas, and Utah) enforce this ban, while the rest of the states (Arizona, Arkansas, Iowa, South Carolina, Tennessee, and Virginia) have had the ban blocked, suspended, or it is not being enforced. Also, by March 31, 2022, seven states' mask requirements are set to expire.
This mask mandate ban could hurt rather than help the already struggling school districts. For example, Napa County in California has one of, if not the, highest COVID rates in the state. School districts in areas like these are in need of mask requirements to slow down the spread of the virus and lower their rates. Suppose a mask mandate ban is enforced in counties with high COVID rates. In that case, it is inevitable that more people will refuse to wear masks and therefore most likely increase the already high number of COVID cases and students quarantined.
In times like this, it is important to protect our students and their education. It is necessary for us to learn in-person at school in order to reach our full potential.
About the Writer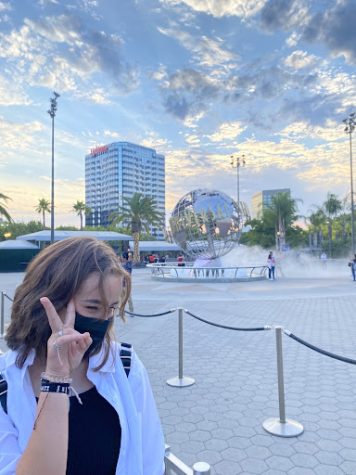 Sabrina Redifer, Staff Writer
Hello everyone, my name is Sabrina Redifer. I am a sophomore at QHHS and a two-year varsity golfer. This is my first semester in Journalism, and I am grateful...