Player Profile: Leah Gillie
The Girls Royals Volleyball team has had a tremendous first half of their season, going undefeated in Golden League (7-0). They have also gone 17-2 overall, including tournaments. This CIF Division 5 team has been on fire these past two months, and it doesn't look like they will stop anytime soon. 
One of the biggest reasons they've been on fire is the middle blocker, Leah Gille. Gille has had an outstanding season so far and plans on continuing the winning streak for the team. She won "Athlete of the Month" for August and led the team in most kills that month. Gille says, "Getting Athlete of the Month was a big accomplishment, and a surprising one for me, but winning the Viewpoint Varsity Tournament and being able to receive the trophy was my biggest personal accomplishment." She still has much left in the tank, and her fans can't wait to see what she can do.
With half of their season done, Gille has improved in just a short amount of time. She struggled with a few technical skills at the beginning of the season but later on overcame them and started a hot streak. "The first half of the season, I was faced with broad jumping and contact on the ball." Obviously, these were easy fixes for the middle blocker.
Gille has been playing volleyball for seven years now. She says it has made a huge impact on her life. "… It's been affecting my life well, I have met my best friends through the experience." She found she loved playing volleyball after losing interest in soccer. 
Gille plans on going to Antelope Valley College for her first two years and then transferring to Cal State University of Northridge to focus on a sociology major. "I haven't decided if I want to continue volleyball or just focus on my career. Also, if other opportunities come, then I will consider them." One of Gille's biggest inspirations is Madi Novak, an alumna at QHHS. Madi Novak is now playing collegiate volleyball at Cal Poly Pomona. Gille may want to follow in her footsteps and also play in the college scene if given the opportunity to do so. We'll have to wait and see what kind of opportunities she gets in the future. 
Now let's cheer on Gille and the rest of the girls volleyball team to keep the winning streak throughout the season! Only three weeks left until they face the CIF playoffs. Be sure to catch their games throughout the next few weeks to stop by and support them! See you there!
About the Contributor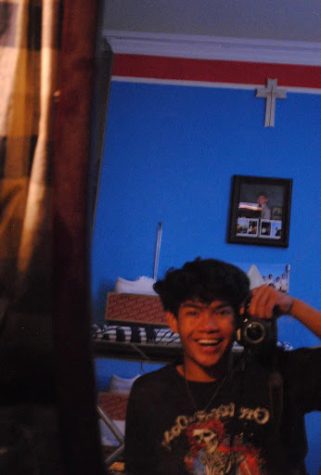 Kristian Ramones, Staff Writer
Hey Royals! My name is Kristian Ramones and this is my first year in Journalism. I am a junior and a writer for the sports section of the school newspaper,...