Cristiano Ronaldo Sitting on the Sidelines 22' Season
Cristiano Ronaldo, one of the best soccer players known today, has been riding the bench for more than half his season games. He is currently playing for Manchester United, and they have been playing their 2022 season in the Premier League. However, out of the eleven games played throughout the league, Ronaldo has only played in five of them.
Erik ten Hag is the current coach for Manchester United, and he has been responsible for Ronaldo's limited appearances on the field. According to the U.S. Sun, Hag expressed that since Ronaldo had missed pre-season, he would have to do a lot to get back into shape and meet expectations. Hag said that Manchester was no longer playing the same type of football from last year. Since the soccer star missed numerous training sessions due to family issues, he is now suffering the consequences and needs to catch up with the others.
Live footage and pictures have demonstrated Ronaldo's frustration with his coach and team at games. For example, in one of his games on October 16, he was subbed out with his teammate, Rashford, even though the teams were still tied. In pictures and videos posted online, Ronaldo is seen shaking his head continuously and having an unpleasant conversation with his coach. He is also seen angrily walking away.
His lack of proper treatment is likely worsened by his title as one of the top goal-scorers worldwide. He made his 700th goal score in a game against Everton on October 9, but although Ronaldo scored the winning goal against Everton, the coach still avoided starting Ronaldo in the subsequent game. Many fans have expressed their frustration and worry about his career with great concern over how his substitutions cannot match his level of performance. Some have also spoken about Hang's grudge towards Ronaldo, which could cause the club to lose and place lower in the league. Due to his lack of playing time, Ronaldo's popularity seems to be taking a hit.
Cristiano Ronaldo has also vocally expressed that he wants to leave the club. The Athletic had previously reported that Ronaldo would like to leave Manchester United if he receives an acceptable offer. But United had no plans to sell Ronaldo, so he has to remain under his contract at the club and play for another season.
About the Writer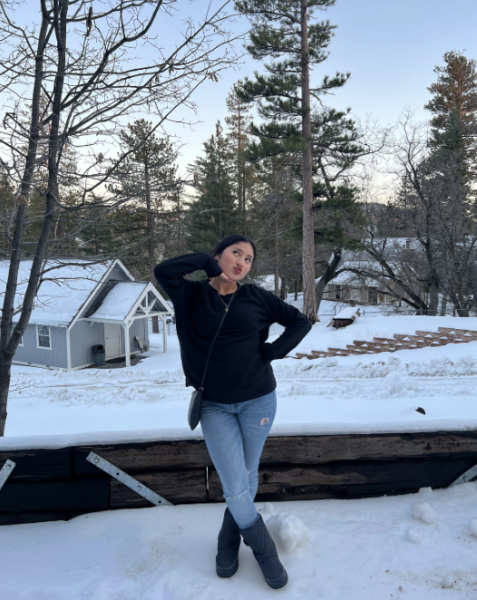 Jayleen Obregon, Copy Editor
Hello to the person reading this! My name is Jayleen Obregon, and I am a senior at Quartz Hill High School. I am now a copy editor for the Quartz Hill...