FC Barcelona: La Liga Champions
In a stunning display of skill, determination, and unwavering spirit, FC Barcelona emerged as the champions of the prestigious La Liga title for the 2022-2023 season. Under the guidance of their esteemed manager and a roster of supremely talented players, the Catalan giants cemented their status as one of the most dominant forces in Spanish football history.
From the very beginning of the season, Barcelona showcased their intent to recapture the domestic crown they last won in 2019. The squad, led by coach Xavi Hernandez, set a quick pace and exhibited a display of attacking football that captivated fans worldwide. Their breathtaking style of play, marked by complex passing, relentless pressing, and clinical finishing, proved too much for their opponents to handle.
As the campaign progressed, Barcelona's momentum only grew stronger. The team's star-studded attack, spearheaded by Robert Lewandowski allowed the team to progress even further then they would've imagined. Lewandowski has had 17 goals, 6 assists, and 25 pass interceptions which have also been assisted by other great offensive players such as Pablo Gavi, Raphael Dias Belloli (Raphinha), and Ousmane Dembele.
Barcelona's success was not solely reliant on their potent attack, however. Their defensive line, marshaled by the commanding presence of Ronaldo Araujo, displayed remarkable resilience and teamwork throughout the season. He held a great presence to keep the opposing offenders from scoring with the great help of another great defender Jules Kounde. The midfield maestros, with their exceptional vision and ability to control the tempo of matches, ensured that Barcelona dominated proceedings in nearly every encounter. Holding down the midfield line was Frenkie de Jong, Pedro González López (Pedri), and Sergio Busquets. Busquets, one of the most dominant midfielders, who has been with FC Barcelona for 18 years, has sadly announced that he will leave the club this summer.
The title race reached its climax in a dramatic fashion during the final stretch of the season. Barcelona found themselves locked in a captivating battle with their arch-rivals, Real Madrid, and a resurgent Atletico Madrid, who were determined to dethrone the reigning champions. Every match became a high-stakes affair, where the smallest of margins could determine the ultimate victor.
In a crucial showdown against Atletico Madrid at the iconic Camp Nou stadium, Barcelona demonstrated their mettle and showcased their championship pedigree. The match will be etched in the annals of history as a showcase of skill, resilience, and character. The crowd was treated to an exhilarating spectacle as Barcelona emerged victorious with a hard-fought 1-0 win, securing the vital points that propelled them to the top of the table.
About the Contributor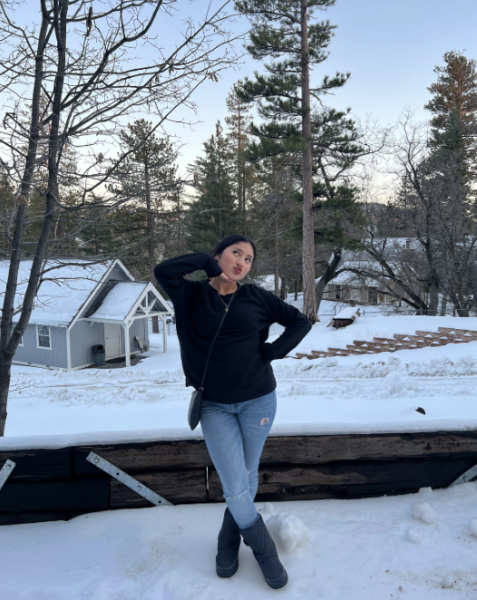 Jayleen Obregon, Copy Editor
Hello to the person reading this! My name is Jayleen Obregon, and I am a senior at Quartz Hill High School. I am now a copy editor for the Quartz Hill...