Tennis Profile: Triveni Patel
As the beginning of the tennis season slowly creeps up, excitement stirs amongst the players of the team. This is especially true for the team's captain, Triveni Patel.
Patel is a hard-working IB student who is now in her final year as a Rebel. As a freshman, she searched for a fun extracurricular activity and discovered that tennis might be ideal sport for her. Little did she know it would become her passion.
Over time, tennis has developed into a method of stress relief for Patel. She stated, "I think my favorite part of the sport is that it is an escape from the everyday stresses of life. I really enjoy being on the court with my teammates and getting to know them outside of the classroom. Tennis is one of the most fun activities that I have participated in during my high school career, and I truly enjoy every minute of it."
Patel is an outstanding role model for her fellow peers. Throughout her high school career, she has been an avid member of clubs such as Key Club, ASB, Multicultural Club, CSF, and IB Club. She even holds officer positions in a few of the clubs that she is in. Despite her interest in tennis, Patel wants to pursue a career in law. She also does volunteer work and an internship at a law office.
Having to balance a difficult schedule, she is well aware of her responsibilities as a captain. She thoroughly enjoys the sport and says that it is up to her that the rest of the team "feels welcome" and that "everyone enjoys the time that they spend on and off the court."
Amongst her many responsibilities, one of the most important is the need to keep up the team's perfect record. It is well-known that the girl's tennis team at Quartz Hill poses a threat to the rest of the teams in the Antelope Valley. As a captain, Patel must be a model team player and she must demonstrate the proper strategies and skills. When asked about how the team will prepare for another undefeated season, she stated, "We have been practicing really hard the last few weeks for the upcoming season. I think that the best way to carry on our success is to practice consistently. We practice every day after school for two hours, and I think that is what is most beneficial for us."
Just like the typical team, there is always room for improvement from season to season. Although the girls' skills are outstanding, it is critical that they continue to build up those skills. The main focus of this season will be improving on the "doubles drills." Patel is confident in her team's abilities, but will definitely be working on increasing her and her team's skill and technique.
Behind every great team, there is an even better leader. For the Quartz Hill girls' tennis team, that is Triveni Patel. She shows that for her team, the impossible is achievable, exemplifying that a perfect balance of school to extracurriculars is the key to success in a student athlete's life. Patel hopes that her final year of high school will be a memorable one and that she can lead her team to another victorious season.
About the Contributor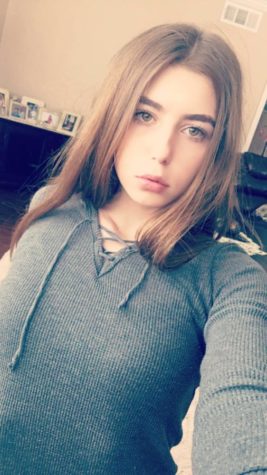 Aleksandra Brajanovska, Arts and Entertainment Editor
Hello, my name is Aleksandra Brajanovska! I am of Macedonia descent, and I am trilingual. I spend my free time reading, watching mystery shows, and going...