September 2020 Apple Event
Every year, Apple holds at least two main events where they release information on upcoming products and features. This year's Apple September Event was held on Tuesday, September 15, and was hosted by Apple's CEO, Tim Cook. With a running time of about one hour, Apple explained several new features and updates to their products.
The event started with a new look for Apple Watches. They introduced the Solo Loop, where the watch's wristband does not have a clasp, buckle, or any overlapping pieces. The band is made up of one continuous silicon piece that connects one end of the watch to the other. The Solo Loop not only comes in different sizes, but is also stretchable to make it easier to take on and off the wrist.
Apple also made their watch more accessible for a variety of people, including those who do not own an iPhone, like children. With the Family Setup feature, Apple Watches no longer require anchoring to an Apple iPhone. The watch can be connected and controlled by the parent's phone, but the watch's user has their own phone number. This feature also allows the parent to choose which contacts the watch can access, and it delivers the watch's location updates to the parent's phone.
A new subscription service called Fitness Plus, located in Apple's Fitness app, was also announced during the September Event. When exercising with Fitness Plus on an Apple Device, the workout videos can be synced with an Apple Watch to monitor heart rate, calories burned, and other statistics. Once the workout video is over, there is a summary displaying the data from your Apple Watch to the screen. There are various types of workouts to suit different people's interests, including yoga, cycling, dancing, and weekly updates to the Fitness Plus video catalog.
The Apple Event also introduced the iPad Air, a new iPad model with a thin design and an all-screen display. Touch ID was added to the power button to unlock the device, and the screen has an anti-reflective coating to provide the best viewing experience. This new iPad Air is available in five colors, including the new shades of rose gold, green and sky blue.
Although the September Event is usually when Apple introduces the newest iPhone and its latest features, the details of the iPhone 12 were not revealed during this year's event. The iPhone 12's reveal is most likely going to be delayed until another Apple event, which most presume will occur in October 2020.
About the Writer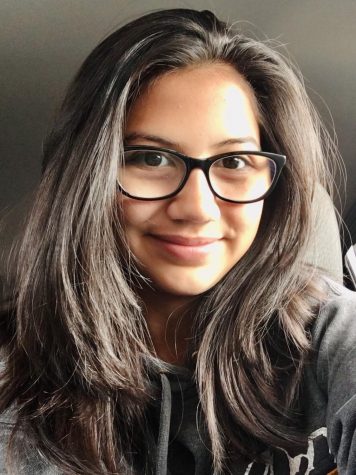 Evelyn Paulino, Staff Writer
Hey guys! How've you been? My name is Evelyn (as you may or may not know), but you probably know me as one of your everyday procrastinators. I'm a...