Antonio Brown Returning To The NFL Raises Concerns
Antonio Brown, the wide receiver for the Tampa Bay Buccaneers of the National Football League, posted on his Twitter page in September 2019 that he would be stepping away from the NFL due to recurring legal issues. He explained that it would be more comfortable for him and the NFL if he retired as opposed to fighting the charges and trying to make time for sporting events. The NFL commented on the posts on their page, saying that the constant legal issues are something that the NFL will not stand for with Brown.
In both 2019 and 2020, Brown was found guilty of multiple felonies, including numerous burglary and robbery counts. He pleaded innocent to both cases. The most recent case against him, however, is neither of these. In September 2020, Britney Taylor, Brown's former trainer, filed a lawsuit accusing Brown of three accounts of sexual assault in 2017 and 2018, one of these accounts being rape. She has even released screenshots of a supposed email that Brown sent to Taylor. In the emails, he is bragging to Taylor about the encounters and calling her crude names. Taylor reports that a few months after the incidents and her resigning as his trainer, he texted her and apologized, claiming that he would stop the sexual advancements.
Since then, Brown has come forward publicly and denied all accusations. Brown states that he is standing up for men like him in the NFL who continuously get accused of false claims. It has yet to be decided whether or not Brown will be found guilty, but as of now, he is a free man. Brown signed to play in the NFL and has told the media that he will be returning in the third week of November. The NFL has stated that they are looking into the allegations further, but unfortunately, until a final decision is made in the case, he will be able to play in the NFL.
Allowing Brown to sign and play has caused significant problems for the NFL as many fans believe that this is incredibly insensitive to sexual assault victims. Fans have posted all over Twitter complaining that they pass these claims off and allow the perpetrator to be seen as an athletic role model. The NFL has come out and said that until a decision is made concerning the case, their decision will remain the same. Fans are outraged as they have started the hashtag on Twitter #guiltyuntilproveninnocent and #justiceforbritney.
About the Writer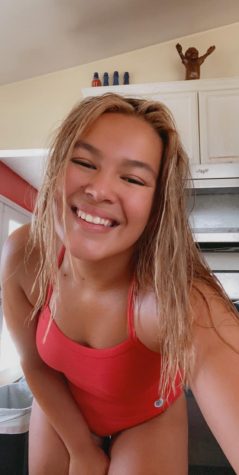 Angelina Joleen Tayama Reyes-Chavez, Staff Writer
Hi everyone! I may not know a lot of you, so allow me to introduce myself. My name is Angelina Joleen Tayama Reyes-Chavez. Yes, I know I have a very long...