October 2020 Apple Event
Only about a month after their previous 2020 event, Apple held another event on Tuesday, October 13, hosted, again, by Apple's CEO, Tim Cook. Although having fewer features and product updates than the September event, this month's event had a longer runtime, a total of about one hour and ten minutes.
The event began with introducing the new HomePod Mini, a much smaller version of Apple's bulky HomePod device. Having the same functions as the original HomePod, the Mini can control smart homes, connect and play audio from other Apple devices, and interact with Siri.
A mesh fabric covers the compact device to improve the device's acoustics and provide a 360° sound effect. It is also much easier to connect your iPhone's audio to the HomePod Mini since it automatically switches when it is near the Mini. The HomePod Mini is available to order on November 6 of this year, for a surprisingly low cost of $99.
The long-awaited iPhone 12 lineup was also released on October 13. The iPhone 12 features a new, square-edge design with an updated double-lens camera back. There are now wide and ultra-wide lenses, allowing for better photos in low lighting. The added ceramic shield also improves the toughness and durability of the iPhone, and, according to Apple, provides drop-protection four times better than any of their previous designs.
All 5G devices, the new Apple iPhones will have lighting network speed, which will be beneficial in crowded areas. The Smart Date Mode feature introduction was also a part of the event. The feature automatically switches the device from 5G to LTW, or vice versa, when it detects that 5G is or is not needed, saving the iPhone's battery.
Apple added MagSafe to the iPhone 12, built to improve the efficiency of wireless charging. MagSafe accessories, including chargers, cases, and mini wallets, magnetically snap onto the back of the iPhone. They also created a collapsible MagSafe duo charger that can charge the iPhone and an Apple Watch at the same time.
The tech company also introduced the iPhone 12 Mini at the event, having sharing its similar but more compact design of the regular iPhone 12. It is smaller than Apple's iPhone 8, but still has a larger screen display of 5.4 inches.
The iPhone 12 Pro and Pro Max have a triple-lense camera back with wide, ultra-wide, and telephoto lenses. They will also include HDR video recording and a LiDAR scanner to improve autofocus when light is limited. The iPhone 12 Pro Max's design has a screen display of 6.7 inches, larger than any other iPhone.
Apple will also no longer include earbuds or a wall adapter in product cases in order to have smaller boxes. This saves money for Apple and helps the environment, but is much less convenient for customers since they will now have to purchase these accessories separately. Fortunately, the cases will still include the charging cable.
About the Writer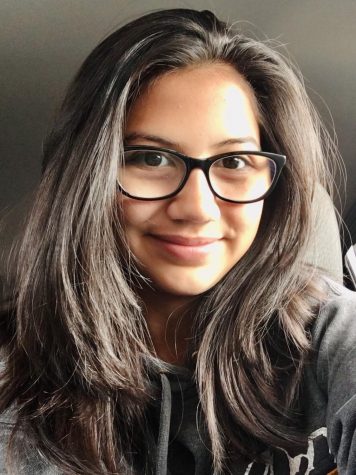 Evelyn Paulino, Staff Writer
Hey guys! How've you been? My name is Evelyn (as you may or may not know), but you probably know me as one of your everyday procrastinators. I'm a...