The Rising Star Amanda Gorman
Amanda Gorman recited her poem "The Hill We Climb" at President Joe Biden's inauguration on January 20, 2021. She is not only the sixth poet to deliver a poetry reading during a United States presidential inauguration, but also the youngest.
Gorman is a twenty-two-year-old American poet and activist whose majority of her literary works revolve around and express the issues of oppression, feminism, race, and social exclusion. She has a twin sister, Gabrielle Gorman, who is also an activist and film director. Amanda Gorman graduated cum laude ("with honor") at Harvard University in 2020. Despite having an auditory processing disorder, which affects her ability to understand auditory information, and a speech impediment since childhood, Gorman says that she sincerely enjoyed and excelled in reading and writing.
In 2014, Amanda Gorman was named the annual youth poet laureate of Los Angeles. She was later chosen to be the first recipient of the National Youth Poet Laureate in 2017, an honorable title awarded to a young person who possesses literary skills and displays commitment to social justice.
In the same year, Gorman recited her poem "In This Place: An American Lyric" at the Library of Congress to celebrate Tracy K. Smith being inaugurated as United States Poet Laureate. Gorman's poem is now on display at the Morgan Library and Museum. She also won the OZY Genius Award and was given a $10,000 grant.
The next year, Amanda Gorman was named one of the College Women of the Year in Glamour magazine. In 2019, she was placed on The Root magazine's Young Futurists list, chosen as one of 25 young African-Americans recognized for their excellence and involvement in social justice and activism.
Gorman organized and founded a non-profit organization that focuses on writing and leadership in society's youth called "One Pen One Page." She has recently published a children's illustrated novel, Change Sings: A Children's Anthem, along with a poetry collection, The Hill We Climb and Other Poems.
Amanda Gorman has expressed her interest in running for United States president in the 2036 election. Back in 2018, Gorman said, "Seeing the ways that I as a young black woman can inspire people is something I want to continue in politics. I don't want to just speak works; I want to turn them into realities and actions." The possibility of Amanda Gorman becoming the first female of color, or perhaps even the first female, to run the United States as President will definitely be worth the 15-year wait.
About the Writer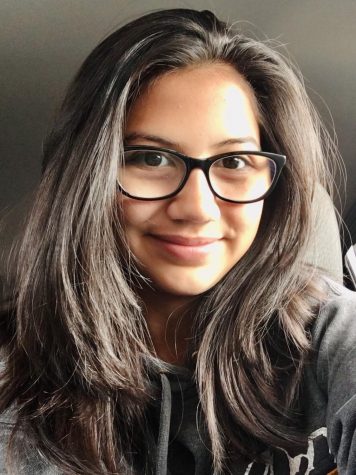 Evelyn Paulino, Staff Writer
Hey guys! How've you been? My name is Evelyn (as you may or may not know), but you probably know me as one of your everyday procrastinators. I'm a...