Games to Relax With After a Long Day of School
Though it's only been around two months since starting school, I'm already dead-tired from all the schoolwork, homework, and exams piling up on my desk. I can imagine that most of you can relate to that same sentiment. I don't blame you. So, to help in destressing, I have compiled a list of relaxing games that will let you unwind after day-long lectures. (Note: these are only some of my favorites. There are plenty more out there to discover for yourself!)
(This list is ranked in no specific order.)
This game is much more than any old "indie adventure." It's a once-in-a-lifetime experience packed in a riveting three hours. While there aren't insanely difficult bosses to beat or challenges to complete, I promise that you'll be captivated by the stylized, low-poly graphics; sweet scores of strings, woodwinds, and choirs; and movements more smooth than butter. Each environment in this oceanic heaven is full of surprises– you'll likely stumble across a mysterious landmark or two while you swim through coral reefs and hidden caves. Plus, the sea creatures found in ABZÛ are drawn from real life, offering a fun educational experience (who said that gaming isn't productive?) as you learn some general facts about each one. Fellow fans of marine life definitely won't be able to stop admiring this game. And, to those who have loved the games Journey or Flower– two other games by the same award-winning developers — this game is another therapeutic masterpiece that you have to play.
 Two words: collecting slimes. Need I say more? In this casual simulation game, you'll play as Beatrix LeBeau, a happy-go-lucky rancher. She wishes to collect and raise slimes that come in numerous shapes, colors, and rarities by sucking them up with a vacuum-like tool and storing them in corrals. Although the mechanics have a shocking amount of complexity to dig into, they are the furthest thing from frustrating. You'll soon want to learn the ins and outs of everything (but hey, no pressure) within a few hours of playing! Overall, the potential for fun and relaxation is endless when considering how much there is to do in this one-of-a-kind fantastic slime hunting sandbox game.
Set your own pace in this mellow 16-bit farming simulator and RPG. In this game, you start as a farmer who inherits their dying grandfather's farm that resides in a small yet lively town named "Pelican Town." You start with basically nothing– no money, no crops, no anything, but as time goes on, you'll progress through the game by fighting monsters, growing crops, and chatting with the NPCs. (By the way, there are five bachelors and five bachelorettes looking for love in Pelican Town!) Personally, I feel the best part of this game is you can do what you want. Have the sudden desire to traverse the dungeons? Go ahead! Want to further the story? Feel free! Feeling like you have to plant a hundred rows of pineapples? Sure, why not! There's a reason why Stardew Valley boasts an ever-growing loyal fan base ever since its release five years ago: it never pushes you to do certain things; that's the best part of this laid-back game. 
There is nothing more lovely than, well, simply everything about this Animal Crossing-esque game. Play as Claire, a young bluebird, and gleefully soar all around Hawk Peak Provincial Park's whimsical retro graphic glory. You'll converse with anthropomorphic animal hikers and dance to the playful, quirky soundtrack. (Seriously, there are some cute tunes!) Although it is true that A Short Hike only takes about an hour and a half to finish, the game offers cute detours that encourage multiple playthroughs. You might want to dig for treasure, play some "beachstickball," or even cruise the seas via motorboat. To sum it up: it's a little game that has a whole lot of heart.
Sky: Children of the Light
Initially released for mobile devices, the dreamy world from Sky: Children of the Light is now out on the Nintendo Switch for free! In this ethereal game, you'll play a "Child of the Light," someone who desires to return the fallen stars to their once prosperous kingdom of Sky. The beauty of Sky lies in the peaceful celestial atmosphere. As you explore the kingdom's seven realms, wander in search of long-aged treasures, and team up with companions from across the world, I have no doubt that you'll ascend through the skies mesmerized. I highly recommend that you play this game with a friend or two to fully relax and immerse yourself in the enchanting world of Sky: Children of the Light. Try it out and see what you think– it only costs the low price of zero dollars, after all!
I hope that you can find time for yourself to have a mental recharge; we all need a moment's relaxation for ourselves from time to time. By playing these games, perhaps you'll come to think of gaming as a soothing getaway from whatever school throws at you.
About the Writer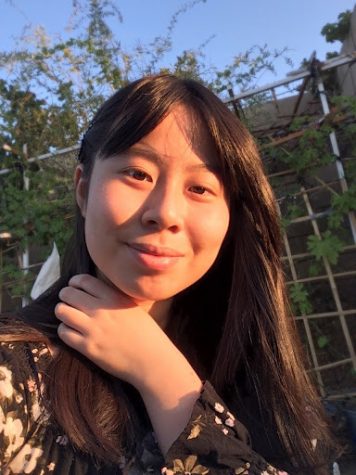 Tiffani Pe, Staff Writer
Hey everyone! My name is Tiffani Pe (pronounced like "pay"), and I'm a junior at our lovely Quartz Hill High School. This will be my first year participating...