Queen Charlotte: A Bridgerton Story
Bridgerton has already had its first spin-off after a couple of great seasons. A new series based on Julia Quinn's book, Queen Charlotte: A Bridgerton Story, continues an earlier series. This week, we are returning to witness Queen Charlotte as a little girl. Queen Charlotte portrays the cold Queen who picked the diamond out of all eligible bachelorettes of each marriage season.
As our narrator, Julie Andrews' voice is once again heard, the character we are familiar with as Charlotte is Charlotte of Mecklenburg-Strelitz, wife of George III. Our Queen Charlotte is German. She stays in Germany until she gets into a contract with George's mother, which specifies that Charlotte will wed George and take the crown of England. The two have a fanciful romantic encounter on their wedding day and fall in love, although George is concealing something. It takes time to figure out, but if you are familiar with George's experience, you will not be surprised to learn that George is concealing a string of really challenging issues with his mental health, which he refers to as "fits."
The relationship between George and Charlotte is successful initially, and eventually, their attraction leads to a fantastic Bridgerton relationship. In the tradition of everyone in this Bridgerton circle, Charlotte and George have lovely chemistry and are breathtakingly beautiful.
However, for this show, whose tone alternates between humor and tragedy, telling the narrative of George's sickness is too much weight to bear. Queen Charlotte makes a commendable attempt to approach the subject matter seriously. As a result, the tale is both a narrative on a mental condition that is frequently unpleasant and a narrative that shows the brutal treatment that anybody in George's place may have anticipated at the time. His treatments were torturous to say the least.
The scenes play out very nice, including the classical and very much enjoyable romance story involving Charlotte and George. It's also appreciated in the Bridgerton scenes in which a man's resolve to suppress his feelings explodes. He claims that due to his intense affection for her, he is unable to remain in the same room with her.
Additionally, Charlotte's tale provides a chance to examine race in greater detail than Bridgerton has. Charlotte is simply shown in that series as a Black queen whose authority has resulted in an almost frictionless interracial society. This show sparked a lot of insightful conversations on interracial romance. Queen Charlotte addresses the issue of how blacks were seen by George's side and the white royalty in a much more different manner and advocates for her race.
This show has grabbed everyone's heart in just six episodes because it depicts severe mental illness, racial discrimination, and a really complicated/loving relationship.
About the Contributor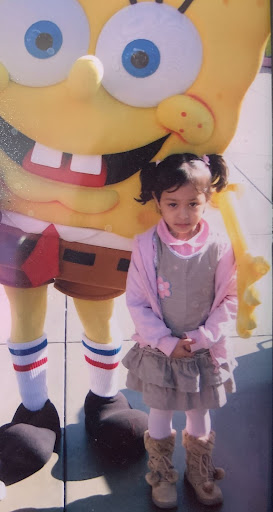 Amity Hoque, Editor-In-Chief
Hey Royals! My name's Amity and I'm a senior. I very much look forward to being the Editor-in-Chief, writing for and leading the school newspaper....